June 6, 2018 - 4:21pm
Southside community comes together on Tuesday nights at St. Anthony's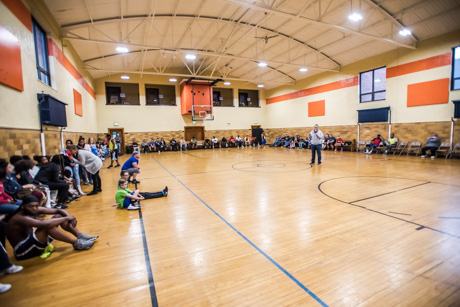 On a Tuesday night, there is probably no place in Batavia with more positive energy flowing than St. Anthony's on Liberty Street.
The former Catholic Church property is now owned an operated by City Church and for more than a year, church leaders have been opening up the gym and community rooms for basketball, games, an art class, and dance lessons.
And everybody -- white, black, rich, poor, young, old -- is having a good time.
"We're just showing the love of Christ and reaching out in care and love," said Ryan Macdonald, who was running the events last night. 
Ryan is the son of Pastor Marty Macdonald of City Church.
When the doors open on Tuesday night, they're open to everybody, Macdonald said.
He's mindful of some of the issues faced by Southside residents, and some of the negative news about the community recently, including a recent murder on Central Avenue, just a block away, and he said that's why he and other volunteers are there.
"When you create a relationship with an open hand instead of a fist you can get a whole lot more done in a community," Macdonald said. "I think that we could all benefit from reaching out instead of demanding a certain set of rules, so that's what we're doing here."
At 7 p.m., all of the activities stop and everybody participating enters the gym for a short message and a prayer before food is served -- in this case, six giant sheet pizzas from Batavia's Original paid for by donations from local businesses.
After reading a Bible verse, MacDonald said, "Somebody asked me not long ago why do you do what you do on a Tuesday night. Here's my answer. The Lord said to those people who asked, 'we never fed you, we never clothed you, we never loved you.' He answered and said these similar words. 'When you did it for those other people, you did it for me.'
"That's why we're here tonight because I believe when I honor you, every person in this room, from the greatest among us to the least among us, when I'm honoring you, I honor God himself. That's why I'm here tonight."
At that point, everybody in the room applauded.