April 29, 2018 - 3:36pm
Spring cleaning and fresh start for Genesee County YWCA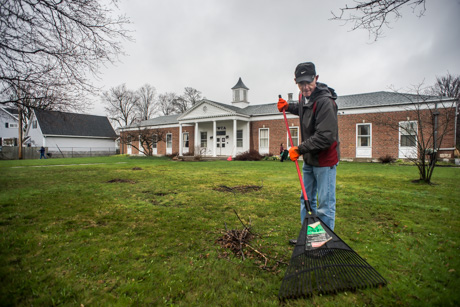 Saturday morning was cool, damp and overcast but the mood at the YWCA on North Street, Batavia, was anything but downcast as more than 20 volunteers tackled a massive spring cleanup of the building and grounds in the belief that community organization has a new, brighter future.
Just a few weeks ago, the outlook for the YW was dire. Executive Director Millie Tomidy-Pepper announced the YW was out of money, in debt, and couldn't continue to operate without assistance.
"The community is showing an outpouring of support," Tomidy-Pepper said. "They want us to be here. This organization has helped so many people and I honestly didn't know how much until I got here. Everybody has a story of how this organization helped them or they had a piece involved in it at some point."
The clean-up effort Saturday was massive, clearing away old broken toys, gardening supplies, and decorations, broken office furniture, and junk piled in the boiler room.
It felt like a fresh start.
The volunteers were among the 40 who showed up at the First Presbyterian of Batavia -- coming from churches in Byron, Corfu, Le Roy, Attica, Bergen, Batavia, and East Bethany -- that morning for three "Mission Day" projects, at Crossroads House, the Child Advocacy Center, and the YWCA.
"There are so many people here today helping," Tomidy-Pepper said. "There are people here rolling up their sleeves because this means so much to the community. My biggest thing is, we're open. We're open for business. We never stopped being open for business."
But some things have changed. The Crisis and Care Hotline is now run out of Niagara County and a group called Healthy Kids has taken over the before-school and after-school child-care programs.
"We realized that as we regroup and as we take a step back to analyze, that we can get stronger and go forward, we needed to kind of downsize a little bit," Tomidy-Pepper said. "We didn't want to do it haphazardly. We wanted to do it in a well-thought-out plan in order to transition to quality services so people will never know anything is different than it's being done by somebody else now."
Parents in the daycare programs won't notice a difference, she said. Healthy Kids is retaining all the staff at the same pay, all the same locations, the same hours, at no price difference for parents.
"They (Healthy Kids) are the rock stars here," Tomidy-Pepper said. "They really are. They did everything we asked."
Tomidy-Pepper is also getting help from the national YWCA. 
Eileen Mershart, a retired YWCA executive director, is in Batavia for more than a week to help Tomidy-Pepper and the board, with an assessment of their situation and strategic planning.
"After about a two-hour board meeting last night, I told them, they are a pretty feisty group," Mershart said. "They are committed to turning this organization around.  With that board support and the community support that I see today, and the interest from a variety of people, as the outpouring of people for friends and fundraisers, I see a path forward here.
"It may not look like it did before, but we will stay true to the domestic violence program and stay true to the mission to take this time to look at the community and community-wide needs."
Going forward, Tomidy-Pepper said there are other programs she things the YW can take on. At the top of the mission statement for the YWCA is eliminating racism. Tomidy-Pepper said she doesn't have specific ideas for programs at this time but that is important to her, she said. 
The YW also has a mission of empowering women, especially women going through difficult times, so she would like to bring back a program called "Power Up."
Along those lines, Tomidy-Pepper decorated her office with two pictures of purses from the 1970s that she found in storage at the YW and a quote from Susan B. Anthony, "Every woman should have a purse of her own."
Among the people in the community coming forward to support the YW is Guy Clark Jr., owner of Cedar Street Sales and Rentals. He's holding a Cinco de Mayo celebration May 5 and $1 from every taco sold will go to the YWCA.
That's the first of a new series of fundraisers. The second one is hosted by Rick Mancuso, owner of T.F. Brown's. The date in May hasn't been selected yet and there are still details to finalize but it will be at the restaurant.
Tomidy-Pepper also praised Bob Swinarksi and students from Genesee Community College who have come in and taken care of all the YW's IT needs, including the computer system, the website, and social media.
"I remember in the interview process (for the executive director's job), I talked about how the foundation of any organization needs to be on a solid foundation before you build a house on top of it," Tomidy-Pepper said. "We're rebuilding the foundation."
Even with the difficult transition, Tomidy-Pepper said, "I'm staying."
She added, "There on of people who came before me. The women 108 years ago (who founded the Batavia YWCA) had more challenges than I do right now. They're the people who worked for the right to vote. They're the ones who went into jails. They're the ones that risked their lives.
"I'm not risking my life here, but it's a mission and I believe in the mission and I believe it's going to work out."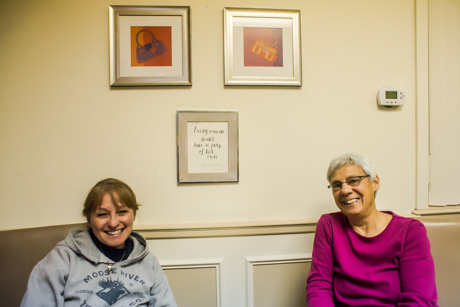 Millie Tomidy-Pepper, left, and Eileen Mershart, under the picture of purses and the quote from Susan B. Anthony.