February 15, 2018 - 10:29am
State fire officials choose Batavia as location for two days of training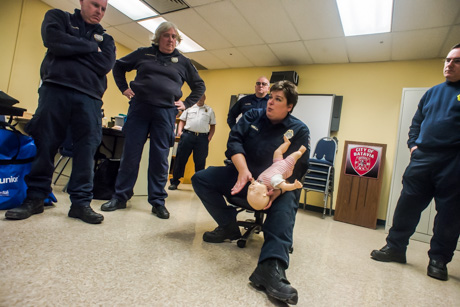 Christina Matrella demonstrates how to provide first aid to a baby who is choking for state fire officials who spent Tuesday and Wednesday in Batavia for a series of training classes.
The classes, which included a range of topics, including hazardous material, provides state officials with uniform training that they can use to better assist and support local fire departments.
There are more than 200 state fire officials now, said Deputy Chief Brian Benstead, and getting them all in one place at one time for training and meetings can be difficult, so the agency is trying regional meetings and Batavia was chosen as a location in Western New York this training session.
"This is primarily our safety training like anyone else goes through, just like any other fire department or police department goes through on a regular basis," Benstead said. "Ours is enhanced by the fact that this is how we make that connection to the local communities and how we support them."
About 20 fire officials were in Batavia for the two days, staying at local hotels and eating at local restaurants.
The training was held at Batavia's fire headquarters.
Chief Stefano Napolitano said he was proud the state chose Batavia for a meeting location.