July 23, 2020 - 1:35pm
Suspect charged with attempted murder in shooting outside Days Inn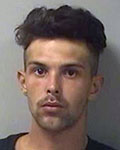 Jacob Sponaugle
A Montclair Avenue resident is in custody and charged with attempted murder following a shooting at about 9:30 p.m. last night outside the Days Inn in Batavia.
Jacob Sponaugle, 21, is also charged with assault, 1st, criminal use of a firearm, aggravated criminal possession of a weapon, 2nd, criminal possession of a weapon, 2nd, and criminal sale of a firearm, 3rd.
Police believe Sponaugle was at 200 Oak St., Batavia, to sell another individual a gun.
The victim of the shooting and Spongaugle are said to be acquaintances. 
The name of the victim is not being released by Batavia PD at this time.
After the victim was shot, he walked into the lobby of the Days Inn and a person there called 9-1-1. A police officer who was first on scene provided aid to the victim, who was awake and alert. A short time later, Mercy EMS arrived on scene and transported the victim to the Genesee County Airport. The victim was then flown by Mercy Flight to Strong Memorial Hospital.
Chief Shawn Heubusch said this afternoon that he is listed in stable condition. His injuries are not considered life-threatening. 
During the initial investigation, police officers determined the suspect had fled the scene in a four-door sedan with a female passenger. They searched the area with the assistance of a K-9 patrol.
Officers interviewed witnesses and obtain video surveillance footage.
"With the assistance of key witnesses and the community, the suspect, Jacob J. Sponaugle, was taken into custody at approximately 2:15 a.m. without incident outside of a residence on Montclair Avenue in the City," Batavia PD said in a release this afternoon.
Assisting Batavia in the incident were the Sheriff's Office, City Fire, State Police, a DEC K-9 patrol, Mercy EMS, the Genesee County Local Drug Task Force, the 911 Emergency Dispatch Center, and the District Attorney's Office
The investigation is ongoing and Batavia PD encourages anyone with any further information to contact the police department at (585) 345-6350, or the confidential tip line at (585) 345-6370.