January 6, 2016 - 1:59pm
The promise and the peril of 1366 Technologies discussed at public hearing on tax incentives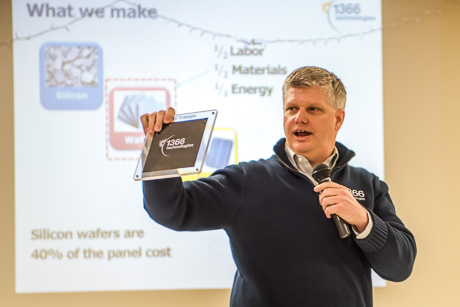 After the questions, concerns, challenges and outright objections to 1366 Technologies coming to the Town of Alabama to build silicon wafers to capture the energy of the sun, resident Dave Dunn said, "I think we've all forgot one thing here tonight: Thank you for coming here."
That statement drew a round of applause from most of the 75 or so people who attended the public hearing Tuesday night on proposed tax incentives to help Bedford, Mass.-based 1366 Technologies build its $700 million facility on 105 acres of the planned high-tech park known as STAMP (Science & Technology Advanced Manufacturing Park).
There were only a handful of speakers during the hearing, and only a couple more who raised objections during a follow-up question and answer period, including one man who stormed out during an impassioned speech by Steve Hyde, CEO of the Genesee County Economic Development Center, on the need for economic development to help keep our children in Western New York.
The state is planning on spending more than $5 million on land acquisition and infrastructure to make STAMP possible, and 1366 could receive another $56 million in incentives from New York along with tax abatements of more than $35 million through GCEDC.
It is those local incentives that the GCEDC Board will be asked to approve in an upcoming vote and last night's public hearing was required in advance of it.
Mark Masse, VP of business development for GCEDC, opened the hearing with an overview of the financing and financial impact of the proposed 1366 project.
The venture is expected to lead to 1,000 jobs at the plant within a few years, with another 1,593 jobs generated by companies that will provide services and support to the new company, and some 2,600 jobs created by local economic growth.
That's more than 6,500 local jobs within 10 years, Masse said.
Entry-level jobs will start at $16 an hour, with production jobs going up to $24 an hour based on duties and experience.
The 1366 payroll is expected to reach nearly $40 million. The indirect payroll could exceed $60 million and induced jobs would add another $30.3 million in payroll, for an anticipated increase in local payroll of $130 million. (CORRECTION: In my notes, I left off some zeros. The payroll numbers have been updated to correct that mistake.)
To help finance the project, GCEDC is proposing a PILOT -- payment in lieu of taxes. That's a break on the property tax. There would be property tax due on the current assessed value of the 105-acre parcel, but there would be no new taxes on the increase in assessed value over the first two years of the project. The taxes would then gradually increase over the next eight years. 
There are also proposed tax abatements on the sales tax on construction materials as well as relief from the mortgage tax.
Masse then turned the floor over to Brian Eller, chief operations officer for 1366, who shared some of his company's plans and an overview of what 1366 will manufacture.
Eller explained that 1366, working with scientists at MIT, have developed a whole new manufacturing process for silicon wafers -- the main component of solar panels, that the company believes will be cheaper to manufacture and produce less waste than the process used by every other company in the world.
Silicon is the second most plentiful mineral on Earth and is usually extracted from sand. For solar wafers, manufacturers receive ingots of silicon that are typically cut and ground into square objects. 
That's an extremely wasteful production process, according to a video Eller played for the audience. Much of the silicon is wasted, as well as the blades and diamond-tipped twine used to cut the wafers.
The process developed at MIT involves melting the silicon and rolling out flat wafers, much like modern glass manufacturing.
The process is a third faster and a third cheaper than current techniques, and no silicon goes to waste, and it uses less energy.
The goal of 1366 is to use its technology to produce wafers that eventually make solar power as cheap to consume as coal energy.
What 1366 isn't doing is making entire solar panels. They are only making the wafers, and they aren't making solar panels.
Elon Musk's Solar City plant, going up in Buffalo, will make rooftop panels, but 1366 isn't producing wafers for rooftop panels, so there isn't currently an opportunity for the two companies to work together directly. The wafers produced by 1366 are intended for industrial solar energy farms, which currently makes up 70 percent of the worldwide solar energy market.
One speaker during the public hearing expressed concern that 1366 would get all of these tax breaks, build this big building, and then pull out like Pepsi did with the Quaker Muller Dairy plant.
There are, however, some significant differences between the Quaker Muller operation and 1366's plans. Pepsi and Muller entered a market that we now know was saturated in an industry that is so competitive that profit margins are always squeezed. There was no chance for Muller's imitation Greek yogurt to achieve a dominant market position.
In his best-selling business book, "Zero to One," venture capitalist Peter Thiel says new businesses should be built around innovations that are a 10-times improvement over anything currently in the market. Thiel also advises startups to aim for only a segment of a market and achieve dominance in that segment before growing. Pepsi and Muller appear to have violated both of those guidelines by entering a market that already had dominant manufacturers, such as Chobani, Dannon and Fage, and aiming for a share of the entire market, not just a segment where it might have a chance to dominate. 
Eller thinks that 1366's lower cost, less wasteful process is that 10-times improvement Thiel recommends (though he hadn't yet read Thiel's book when asked about it) and that 1366 is going after a segment of the market where it can achieve dominance.
Only a portion, less than $100 million, of $700 million required to build the 1366 Technologies plant to full capacity is coming from public investment. There is also a $150 million loan guarantee backed by the Department of Energy. When the project was announced at Genesee Community College in October, company CEO Frank van Mierlo indicated he was investing his own money in the project. The company has reportedly raised $70 million in venture capital from investors such as Hanwha Chemical, a major user of silicon wafers, as well as from Ventizz Capital Fund, North Bridge Venture Partners and Polaris Venture Partners. The company has not discussed any other efforts to raise additional capital or the timing of capital needs. They would not need the entire $700 million in the bank to start construction.
Construction is expected to start in May or June.
The first jobs should be filled in the fall or early winter of this year, with hiring continuing through the middle part of 2017 and then more jobs added as production capacity is increased.
Eller will move to here from Bedford to join the ranks of the locally employed, along with as many as five current 1366 managers and executives, though the company will remain headquartered in Bedford. That's also where the company will continue research and development operations.
There was a bit of discussion between Eller, Masse and meeting attendees about workforce development and who will get hired at the new plant. 
Lorna Klotzbach had several objections to the proposal, among them were questions about whether there were really sufficient potential employees in the region. She also shared with some other speakers a concern that STAMP was converting farmland and wildlife refuge into industrial land.
Al Files, who would later get up in a huff and storm out during Hyde's speech, said he thought it made a lot more sense to build where there's already big buildings and infrastructure.
"In my opinion, I think it's stupid," Files said. "We're wasting all of this property when it could be built in Rochester, Buffalo or Batavia."
Eller said 1366 was attracted to STAMP, out of 300 locations considered, for two primary reasons. First is cheap and clean hydroelectric power, and then there is the regional workforce. Eller said the company hired a consultant who studied a number of variables for several possible plant locations and STAMP scored the highest for workforce potential.
Creating local jobs and reversing two generations of economic decline is what STAMP is all about, Hyde said.
"At the end of the day, what drove us to work so hard to attract a company like 1366 to our community and our region is creating jobs for our kids so they can either stay here or come back home," Hyde said. "All the rest of these questions are good and relevant, but if we take a little look at the big picture, we've all been losing tax base and these guys are going to start that trend of turning that around. 
"We can't guarantee that companies are going to be successful, but even with the situation in Batavia, where Muller Quaker was, we built that ag park, two companies came in and spent over $200 million there. The market didn't work. They entered the market late. They ended up having to shut down and that's a disappointment, but the beauty is, one of the best dairy companies in the nation is coming in because that ag park is there and they're filling it back up and probably hiring more people than Muller ever would have. The investment model that we've used over the last decade is working. It's creating good jobs for our people and our community. It's creating tax base.
"I just wanted to paint a little bit of the bigger picture," Hyde added a few sentences later. "We're absolutely fortunate to have a company like 1366 be willing to come here and start to build that high-tech, entrepreneurial ecosystem. It will mean a lot of jobs for our kids. … I'll tell you right now if we get a thousand jobs from this company over the next decade, and that turns around to be about four thousand jobs all over this area, you're going to see an economic boom around here that we haven't seen in 50 years."
At which point, Files interjected, "This is an agricultural area. This is not a manufacturing area."
Hyde said projects like 1366 will take the pressure off of ag to support the entire local economy, and that the land the plant will use is less than 3 percent of the available acreage in Genesee County, and it's the least productive land in the county.
"We looked at all of that," Hyde said.
But Files was no longer in the room to hear it.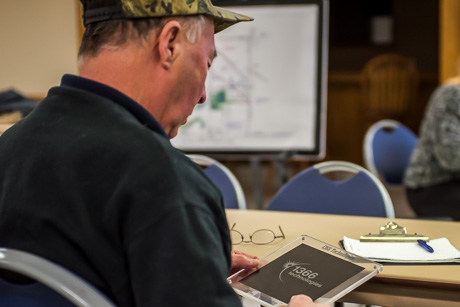 I couldn't find online the video Eller showed, but in looking for it, I found this interesting video.
January 6, 2016 - 9:41pm
#4
Howard, I sat one row behind you last night at the GCEDC public hearing, but it sounds as though we were not at the same meeting at all! You described it as "a couple of people speaking" objections to the possible arrival of 1366, when at least ten people spoke, with the majority of them asking/commenting at least twice. The tone was not nearly as warm as you describe in your editorial. You rushed right up to the front to speak more with Mr. Eller and Mr. Masse, but you didn't circulate around the room seeking to discover the points of view of the Alabama residents who came to listen.
You have not mentioned the economic concerns Alabama residents have about the loss of sales tax revenue to the Town and, indeed, to the entire county. Some estimates put this figure in the millions of dollars which local municipalities will lose during the construction and build-up phases. More than 50% of the land in Alabama is already off the tax rolls, with STAMP removing another 1200+ acres. This tax abatement could jeopardize the economic survival of individual families in Alabama and the County because the revenue must be made up somehow, which means tax increases. You don't point out, or acknowledge, or investigate how long the "future" is in GCEDC's claims of "potential future tax reductions at full build-out." Listen closely—they never say that the tax reductions will come immediately, or even soon. Don't you remember sitting in the same fire hall a few years ago, listening to Mr. Steve Hyde say, with his characteristic shrug, "Alabama will have to bear the costs and losses so the whole region can benefit. "
Neither GCEDC's Mark Masse nor Brian Eller could/would answer questions about how much water will be required for 1366's innovative manufacturing plant or about how much waste water and sewage will be generated and pumped through the refuge on its way to Medina's water treatment plant. This is an important question since someone has to build, operate and maintain these delivery systems. Some entity will have to pay back the loans and assume responsibility for them if 1366 fails or leaves NYS. That entity will be funded by taxes.
Neither gentleman seemed to know whether the GCEDC or 1366 would own the land, or exactly which entity would own the factory after the GCEDC builds it. This is an important question because whoever owns them will have more "skin in the game (which is highly motivating), and will be left "holding the bag" should 1366 go the way of Muller Yogurt!
Neither man could/would answer questions about the compensation that will be coming to the town of Alabama in return for it setting aside its Comprehensive Plan, changing its zoning, and incurring new municipal costs during the period before "full build-out" with its projected Nirvana-like economy. This is an important question because the Town was supposed to receive money upon the sale of the now-public, untaxed lands within the STAMP. If GCEDC doesn't sell the land, how much money will Alabama receive and how committed will 1366 be to the Town?