March 18, 2022 - 8:00am
The Ridge hosting pancake breakfasts Saturday, Sunday, featuring maple syrup made on the premises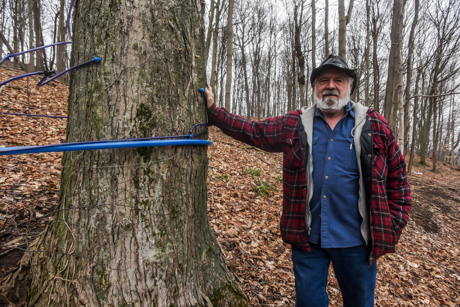 Harold Gage has been drawing sap from maple trees and turning it into sweet syrup for 15 years at The Ridge NY (formerly Frost Ridge) but its been a long time since his syrup has been a featured menu item at the campground's restaurant. 
That changes this Saturday and Sunday with the first of two Maple Syrup Weekends at The Ridge.
The restaurant, not normally open for breakfast on Saturdays, serves pancakes smothered in Gage's syrup produced from trees right on the campground's property and transformed in a maple shack Gage built himself for more than a decade ago.
Gage learned to make maple syrup from the previous owner of Frost Ridge, who hosted Pancake Sundays, and eventually took over the entire operation.  He now gets help from his son.
Asked what he liked about making syrup he laughed and said, "Well, it's a lot of work."
Breakfast will be served from 9 a.m. to noon this weekend and during the same hours on April 9 and 10.
Patti Unvericht, the new events coordinator at The Ridge, said next year she plans to expand the number of weekends and perhaps even bring back tours of the maple-making operation.
The Ridge is located at 8101 Conlon Road, Le Roy.