July 26, 2018 - 5:32pm
There's no slack in training for first group of students going through law enforcement Teen Academy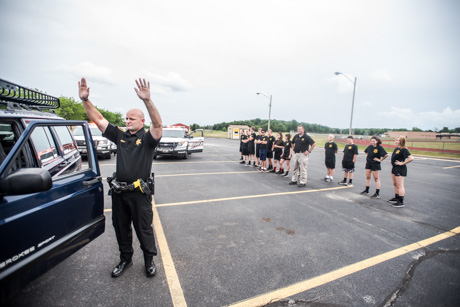 Deputies are cramming a lot of police training into one week for the first Teen Academy hosted at Byron-Bergen High School by the Sheriff's Office.
In this one week, said Deputy Matthew Butler, the 14 students enrolled are covering the same material a cadet at a standard police academy must grasp in five-and-a-half months.
"I don't want any student to come away and say 'that was nothing, it wasn't tough,' or 'it was too easy, I didn't get anything out of it,' " Butler said. "That's why we're trying to throw a lot of stuff at them so they get the most from the experience and see what it's really like."
Each day, at 8 a.m., starts with physical training or PT, and students take turns leading PT. Police officers all need to have leadership skills and be able to communicate effectively and PT and marching in formation are a chance to practice.
Instruction from there includes classroom lectures, demonstrations, and hands-on practice.
Deputy Chris Erion has been out with K-9 "Destro"; Sgt. Jason Saile presented a crash management demonstration; there are tours of the jail and communications; and a chance to see how the scuba team and Emergency Response Team work.
Instruction includes defensive tactics, penal law, vehicle and traffic law, and crime scene investigation and evidence recovery.
Patricia Reeves led a DWI victim impact panel.
There is homework every night and a test tomorrow followed by graduation at 1 p.m.
"We're giving them a real taste of what it's like to be a police officer and what you have to go through in the academy to become a police officer," Butler said.
The Teen Academy was pitched to Sheriff William Sheron by Butler, who is the school resource officer at Byron-Bergen, after he had seen something similiar in Monroe County. This is the first teen academy in Genesee County.
The training is no-nonsense. Tuesday, during traffic stop training followed by felony stop training, deputies Ryan DeLong, Andrew Mullen, and Chad Cummings were quick to stop, correct, and lecture in a tone that didn't permit embarrassment but understood that is a lot to master even in a simple traffic stop.
Proper procedures, situational awareness, emotional intelligence, and observation are all critical in a traffic stop, which is both the most routine task in law enforcement and the one daily task most fraught with risk, both to officers and civilians. A good officer never grows complacent.
DeLong, Mullen, and Cummings demanded the attention of the students, and attention to detail, from how they approached the car, to where they stood while talking with the driver, which hand they used to grab and hold paperwork, and how they safely walked back to the patrol vehicle.
With the basics understood, the students who role-played as drivers and passengers could improvise their responses to the cadets, from denying wrongdoing to revealing they were licensed handgun permit holders and were carrying a weapon. Responses were critiqued and corrected.
On two consecutive "stops," the "deputy" didn't notice the passenger holding a handgun in his lap.
Mullen emphasized, when approaching a vehicle, you've got to see everything going on inside the vehicle. The weapon could easily be viewed even before an officer would reach the driver-side door. At that point, Mullen said, you fall back and radio for backup.
DeLong, Mullen, and Cummings then simulated a felony traffic stop, with Cummings assuming the role of the criminal suspect, and then the students took their turns at practicing the procedure.
Many of the students participating do anticipate a career in law enforcement, so that's why they signed up for the academy.
"I really want to go into law enforcement," said Morgan Rhodes, a senior at Notre Dame HS. "It interests me a lot. I've always wanted to do it and this is really helping me figure it out."
She's interested in solving mysteries, she said, "making it right" after a crime has been committed, and ensuring people follow the law.
She thinks she will start her law enforcement career in the military but hopes to become a deputy some day.
Devyn Reigle, who has been taking Criminal Justice courses at BOCES, is also considering starting his law enforcement career in the military. The academy, he said, was a chance to get a more hands-on grasp than his college class on what being a cop is all about.
"I've learned a lot more," Reigle said. "I've learned what to be aware of, that it's a lot more serious than you think, and to keep your eyes focused on everything."
Top photo: Deputy Chad Cummings in the role of suspect during a felony stop demonstration.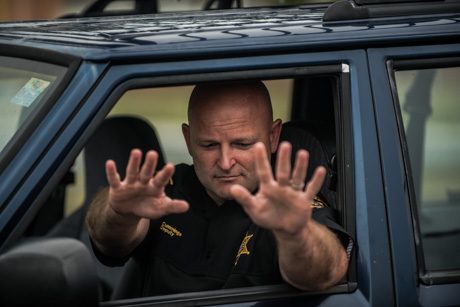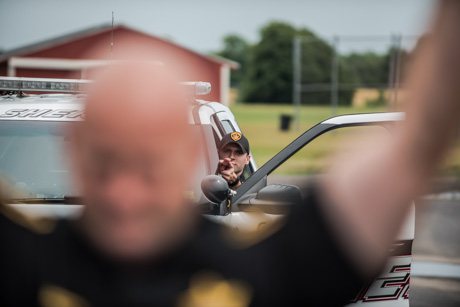 Deputy Andrew Mullen with simulated pistol drawn while conducting a felony stop demonstration.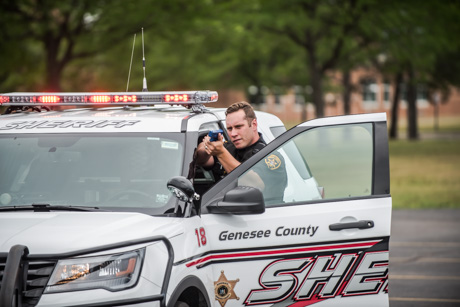 Deputy Ryan DeLong during the felony stop demonstration.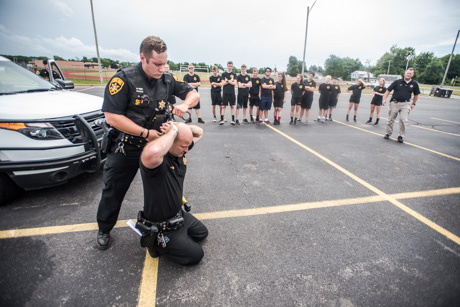 Deputy Ryan DeLong cuffing Deputy Chad Cummings.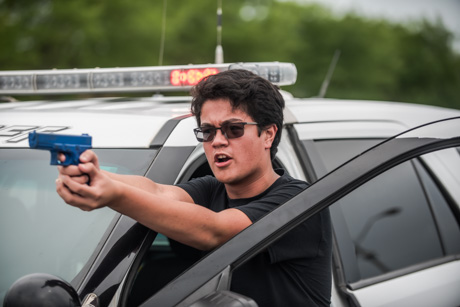 Gianni Vallese, a Byron-Bergen student, practicing a felony stop.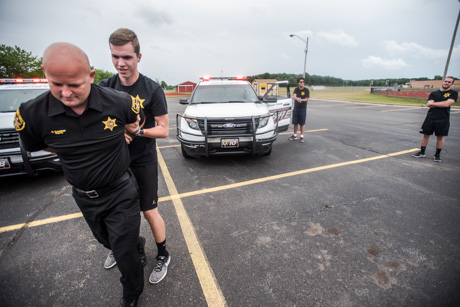 Devyn Reigle taking Deputy Chad Cummings into custody.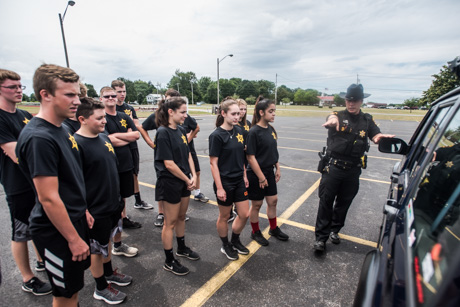 Deputy Ryan DeLong providing instructions on procedures for a traffic stop.
Gianni Vallese conducting a traffic stop while Deputy Ryan DeLong observes.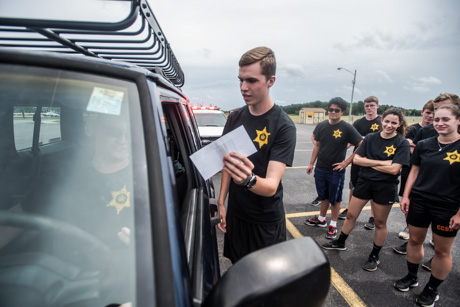 Devyn Reigle accepting paperwork from a driver during a practice traffic stop.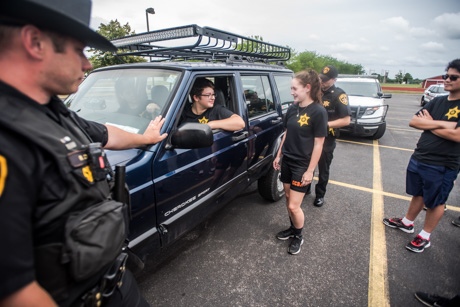 Morgan Rhodes conducting a traffic stop.
The inaugural class and some of the instructors of the Sheriff's Teen Academy at Byron-Bergen High School.
After the jump, more pictures of training submitted by Deputy Deb Snyder and Deputy Chad Cummings.