Image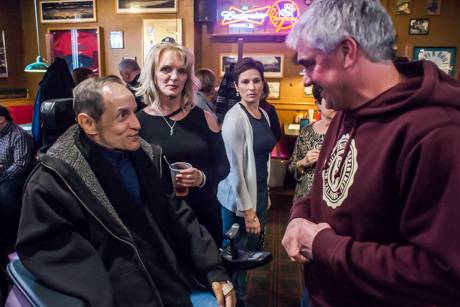 For the first time in awhile, Ricky Palermo -- whose own charity has raised more than $720,000 for spinal injury research -- was the center of attention at a fundraiser on Sunday night at T.F. Brown's.
"People don't realize what it's like when you're at a fundraiser and it's directed at you," Palermo said. "It's kind of a weird thing. We all want to help other people and we do but when it's directed at you, it doesn't seem real.
"I'm pretty damn lucky, as you can see. It's not just my relatives, though we're a huge crowd. It's my relatives and friends from all parts of my life that makes it all fun."
There were more than 300 people at T.F. Brown's to make donations so Palermo can receive experimental treatment at the Miami Project that, if successful, could give him more mobility.
Palermo, who was a three-sport star athlete at Byron-Bergen High School in the 1970s, suffered a spinal injury in an automobile accident 37 years ago and became paralyzed from the chest down.
For 15 years, Palermo and family and friends, have used the Ricky Palermo Foundation -- with an annual golf tournament and other events -- to raise funds for spinal injury research. Now it's Palermo's turn to take advantage of some of the scientific advances led by the Miami Project.
"My goal in life — everybody thinks it is to walk again — but my goal in life is to be able to take care of myself," Palermo said. "What they've got going on, it's no longer a whacky dream. It's pretty much a possibility. That's my goal. If I could recover enough to actually take care of myself, I would consider that — not a victory, but a big, big, big advance toward victory."
The Miami Project was cofounded in 1985 NFL Hall of Fame linebacker Nick Buoniconti after Buoniconti's son, Marc, sustained a spinal cord injury during a college football game. A team of 250 doctors and researchers led by cofounder Dr. Barth A. Green have since made breakthrough discoveries in the field of spinal injury treatment. 
"A lot of people thought the book was closed (on spinal injury research), but it's not," Palermo said. "The Miami Project is getting people back up on their feet. Yes, their injuries are minute compared to mine, but (people with) slight injuries today are getting back up on their feet."
Wade Bianco, a good friend and a business partner with Ricky's brother, heard that Palermo had a chance for treatment at the Miami Project but that it would cost $10,000 plus he would need to bring two nurses with him. So Bianco got together with friends and family members at breakfast and said they should organize a fundraiser.
They all agreed. Bianco called Rick Mancuso at T.F. Brown's, who quickly agreed to host the fundraiser, donate the food and reduce the price of drinks at the bar.
Others donated items for auction, including four Yankee tickets, Sabre tickets, and Jim Kelly donated autographed footballs and a book.
It just so happened the fundraiser fell on Bianco's birthday.
"I can't think of a better birthday present than to help somebody else, especially Ricky," Bianco said.
In all, the event brought in about $30,000.
Bianco said he was awed by the response and chalks it up to the special nature of the Batavia community.
"I'm from Long Island," Bianco said. "I moved here. I couldn't believe what a great place this is. It's just an awesome place to raise kids, to live -- my wife says 'don't you want to go Florida?' I'll go for two months. My friends are in Batavia. I really don't want to go a long time. I'll take February and March when I retire, but I don't want to be gone. I want to hang out with my friends and my friends are in Batavia."
Palermo said he has long felt grateful to the local community for their support, their help, and for just being there for him. It all started 37 years ago when he was injured and has never stopped. He said he feels lucky, very lucky, to have so many great people around him.
"It's an incredible feeling to know that when you go places that everybody there wants to do something for you," Palermo said. "It makes me feel good about our society. There are so many good people out there.
"They don't get the credit. All you see is the bad stuff. All I can say is if people want to see what's positive in life, get involved with some of these people that support us. It's incredible. It wakes you up in a good mood and it puts you to sleep in a good mood."