June 24, 2018 - 2:58pm
'Throwdown at the Downs' a hit with MMA fans, though top Le Roy fighters drop matches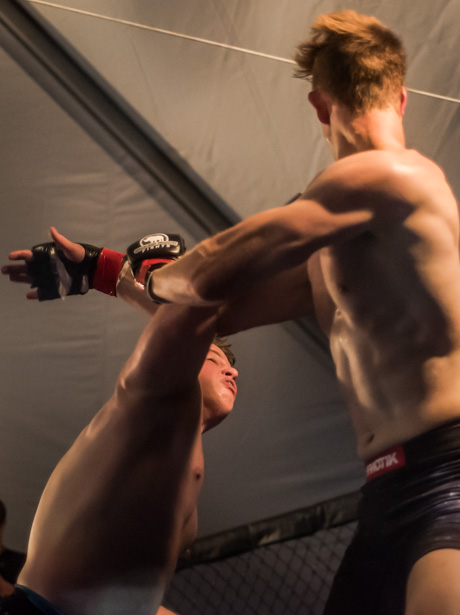 In the main event at the "Throwdown at the Downs" mixed martial arts event, with 24 fighters on the card, Tom Shelby, of Le Roy, who came into the fight 2-0, was KO'd in the second round by Yuri Panferov.
Panferov, now 3-0, claimed the Ground Force Fights Cruiser Heavyweight title.
Shelby was hurt early in the second round when Panferov wrestled him to the mat against a cage wall and landed a couple of punches to Shelby's head (see two pictures below). Shelby got up and continued to fight but with less energy.
Panfervo landed a punch (above) that sent Shelby down and the referee immediately waved off the fight. Shelby was attended to by a ringside doctor and Mercy EMS personnel but walked from the ring on his own, bloodied but alert.
Paid attendance was 700.
UPDATE: The official results of the fights:
Gray Hendershott wins over Zak Sucharski by armbar in the Submission grappling match;
Jason Pilkenton over John Gear Gart via Round 1 TKO, 1:11 kickboxing match; 
Eric Bonner over Maxeron Dorn via unanimous decision;
Anthony Gugino over Kenny Hale via Round 1 Submission 1:17;
Brendan Kennedy over Steven Kleckler via Round 1 Submission 1:03;
Marcus Dunn over John Doyle via unanimous decision;
John Piersma over Benjamin Horton via Round 1 TKO 2:10;
Tim Cronk over Alex Carroll via Round 1 Knock Out :15 Heavyweight title fight;
Mark Murray over Bert Forney via Round 2 TKO 2:53 Lightweight title fight;
Jon Marconi over Travis Streeter via Round 1 Knock Out  :14 Super Heavyweight title fight;
Brad Vargasson over Matt Norstrand via Round 2 Submission 1:11 Middleweight title fight;
Yuri Panferov over Tom Shelby via Round 2 Knock Out 2:59 Cruiser Heavyweight title fight.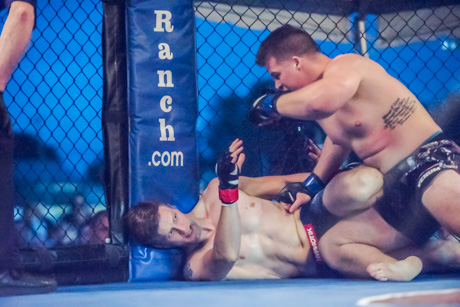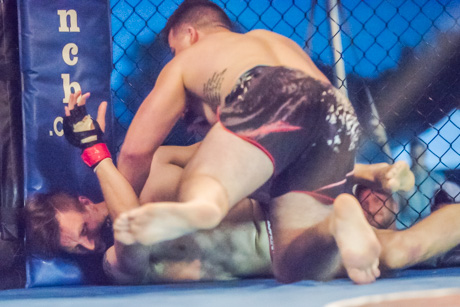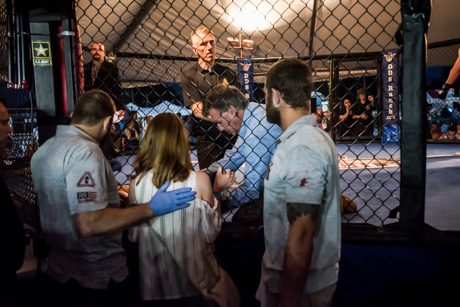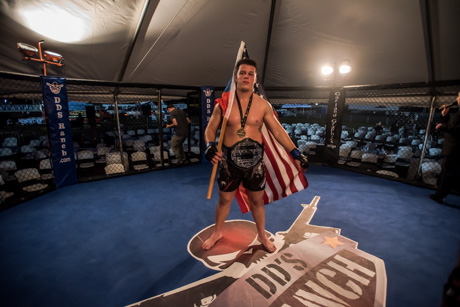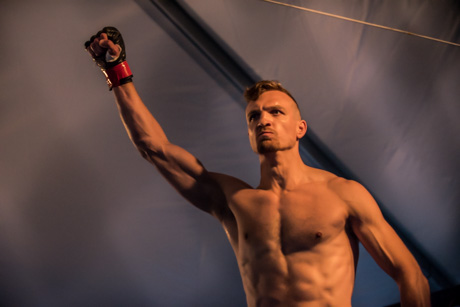 Local favorite Matt Norstrand, who entered the ring at 3-1, before his Middleweight title fight against Brad Vargasson (5-4). Norstrand, who seemed in control of the fight during the first round, tapped out early in the second after Vargasson got him in a stranglehold (third photo below).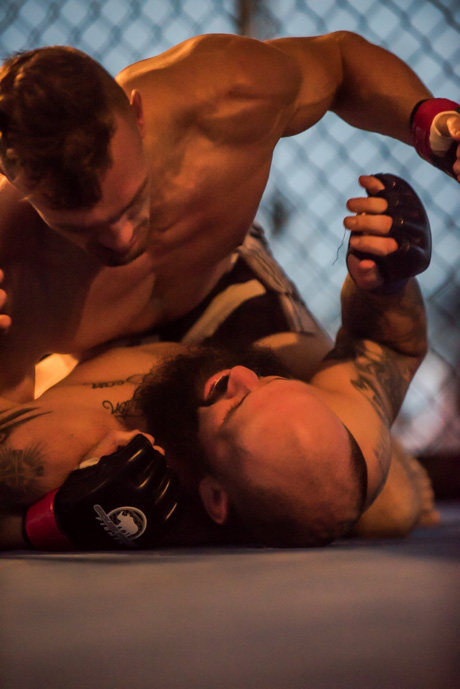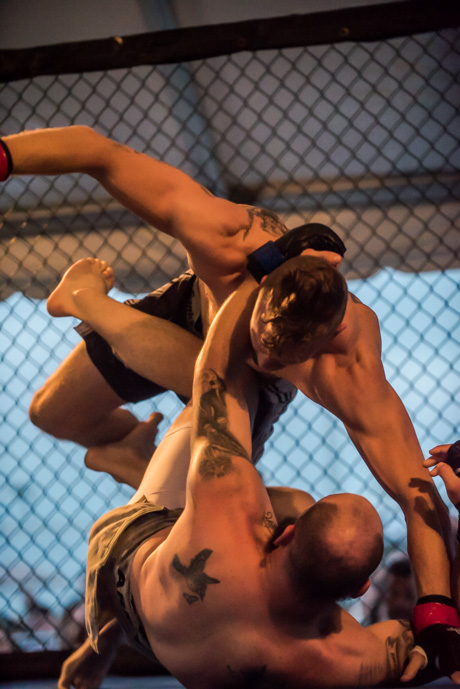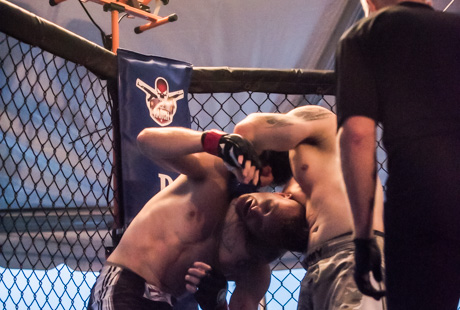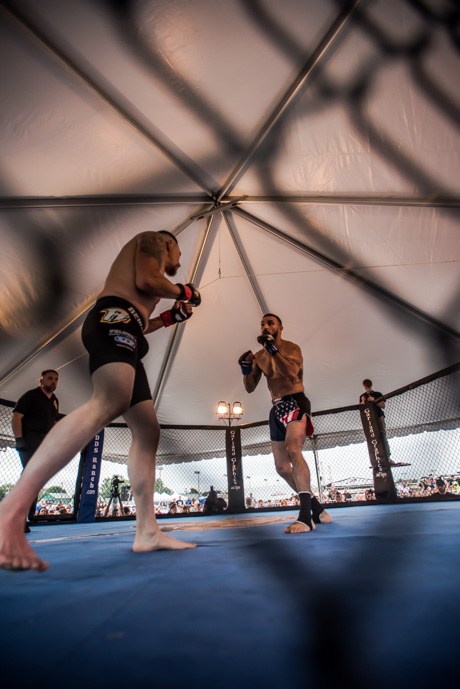 Mark Murray and Bert Forney. Murray claimed the Lightweight title.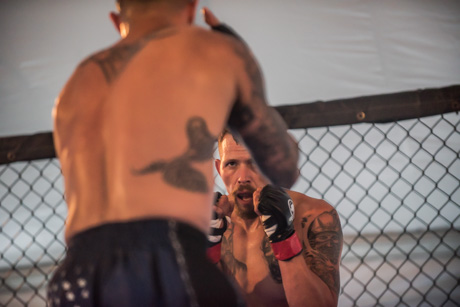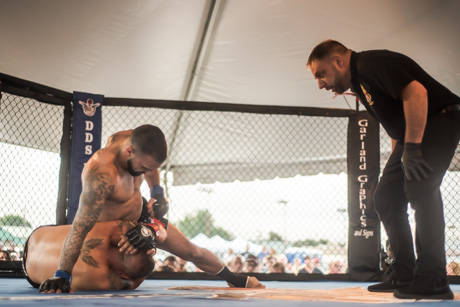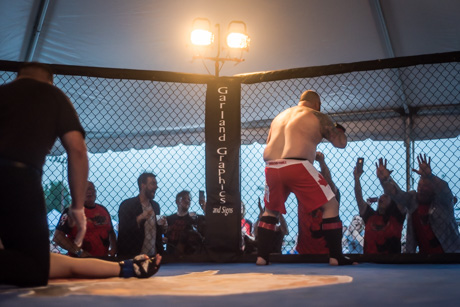 John Marconi celebrates with his fans his KO victory seconds into the first round over Travis Streeter. Marconi is now 3-4 and the Ground Force Fights' Super Heavyweight champion. Streeter is 1-1.