February 17, 2018 - 2:14am
Truck accident reported on Route 20 in Darien, wires down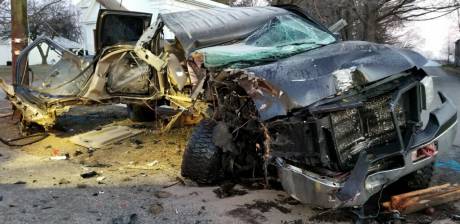 A motor-vehicle accident is reported in the area of 1964 Broadway, Darien.
There are wires down with reports of power outages in the area.
A semi-truck and possibly a pickup truck are involved.
Unknown injuries.
A first responder on scene says the pole is sheared off and traffic lights are down.
Traffic is being shut down.
UPDATE 2:15 a.m.: It's a single pickup accident. The tractor-trailer clipped the lines as it was coming through, according to a law enforcement officer on scene.
UPDATE 2:20 a.m.: A fire hydrant was also sheared off. An area stone quarry delivering crushed rock needs to be notified that its trucks will need to find an alternate route for the time being due to the train derailment in Attica.
UPDATE 2:27 a.m.: DOT being notified that Route 20 will be closed for a few hours.
UPDATE 2:46 a.m.: There's a broken pole on Route 238 with a transformer on it. National Grid reports fewer than five customers affected by the power outage.
UPDATE 3 a.m.: Darien ambulance is transporting a patient to UMMC ECMC.
UPDATE 8:42 a.m.: Fire services went back in service about 6 a.m. Route 20 remains closed. Roadblocks now covered by deputies.
UPDATE 8:52 a.m.: Route 20 is reopened.
UPDATE: Carter S. Dale, of Attica, has been identified by the Sheriff's Office as the driver of the pickup truck. He has been charged with DWI, moving from lane unsafely and not wearing a seatbelt. According to the Sheriff's Office, Carter was driving a Ford F-250 that went off the north shoulder of the roadway and struck a utility pole, street light pole, and a street sign, before coming to rest. A tractor-trailer traveling through the area at the time snagged low-hanging wires. The accident was investigated by Deputy Ryan Young, Sgt. John Baiocco, and Deputy Jeremy McClellan. Assisting with the scene were Darien fire and Alexander fire, the State Police, National Grid, Monroe County Water Authority, DOT and gas and cable companies. 
Reader submitted photo.