December 9, 2017 - 5:12pm
Two people killed in accident on Route 98, Elba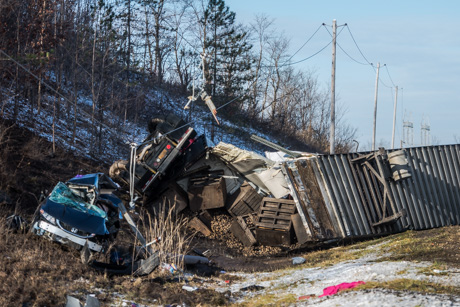 STORY UPDATED AT 5:32 p.m.
A semi-truck hauling potatoes and a passenger vehicle collided at about 1:15 p.m. today at the intersection of Lockport Road and Route 98 in Elba and as a result of the accident two people died.
The victims are Franca C. Monachino, 45, of Hilton, and Jerry E. Tuttle, 29, of Kingley, Pa.
State Police investigators believe Monachnio was driving a 2013 Honda Civic westbound on Lockport Road and failed to yield at the intersection of Route 98. Tuttle, in a 2004 Peterbilt hauling potatoes, was northbound.  
Both vehicles went off the west shoulder of Route 98 and became entangled in high-voltage electrical lines. Firefighters were unable to check on the victims until National Grid arrived on the scene, about 30 minutes after the accident, and shut off power to the lines.
The operators were deceased at the scene and there were no other victims.
Troopers were assisted by Elba fire, Mercy EMS, Sheriff's Office, National Grid, Genesee County coroner, NYSP Commercial Enforcement Unit, NYSP Collision Reconstruction Unit and the Bureau of Criminal Investigation.
The investigation is continuing.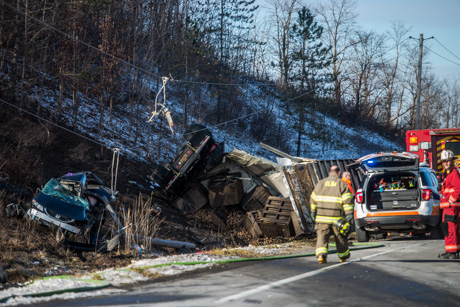 December 9, 2017 - 7:45pm
#1
This story reminds all of us that driving our vehicles is not just a thing we do. A mistake at the right time can be fatal to ourselves and others. Please take a moment to pray for the victims and their families. And another to commit ourselves to driving like it means something important.