January 5, 2023 - 3:45pm
United slaying dragons in early season contests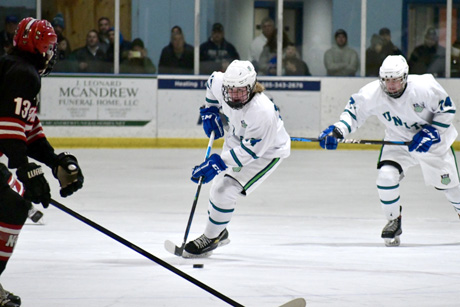 Batavia Notre Dame United captures the David McCarthy Memorial Hockey Tournament with a 6-5 victory over Section VI powerhouse Niagara Wheatfield.  
United found themselves in unfamiliar territory early in the second period trailing 3-1.
"We were playing well. We just needed to stick with it and stay positive," said Head Coach Marc Staley. "They are a great team. We knew this would be a battle."
BND rattled off four goals in the second period, flipping the lead in the game from down by one to up by one.
"Our PowerPlay has been so strong this year," Staley said. "They took a few undisciplined penalties and made them pay"
BND went 4-6 on the PowerPlay during the game.
BND was only called for three minor penalties in the game and outshot NW 41-22.  
"This was a great night for the program," Staley said. "Winning your home tournament is always fun, but beating one of Section VI's top teams in the meantime gives a nice confidence boost moving forward"
Now onto the next challenge.
Next, United takes on 2022 Section V Class A Champion Victor (7-1) on Friday night at the Rochester Ice Center.  
"This is the schedule we want," Staley said. "We want to play the top teams and see how we stack up.  Taking care of Bethlehem (8-0) from Section II, now beating Niagara Wheatfield (7-1-1) from Section VI, now another huge test with Section V's best, Victor.
"The kids are hungry," he added. "They are focused.  And I love that they aren't content.  We are still getting better.  I know we have another level up from here.  Our biggest tests are still in front of us.  We are building nicely towards those games"
Photos by Erin Staley.