September 28, 2017 - 1:03pm
United Way kicks off annual campaign with $388K goal and plan for 'Teen City'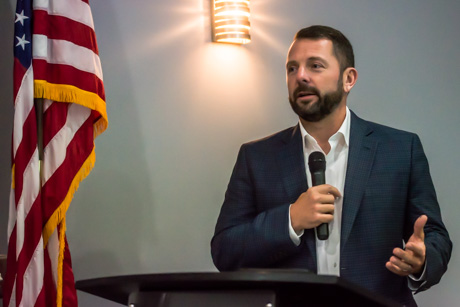 The United Way of Genesee County has set a fundraising goal for the next year of $388,000 to help support 25 programs run by 20 local agencies.
Director Eric Fix also announced this morning at the kickoff breakfast at the Dibble Family Center an ambitious plan to build "Teen City," a new center to provide activities for teens from throughout Genesee County.
Plans are still being developed, including finding a location for the center in the City of Batavia, but Fix said the goal is to open the doors by fall of 2018.
He's working with Jeff Townsend of the YMCA to develop the center.
"One of the things we've both been told throughout our careers is teen centers don't work," Fix said. "You can't do teens. It just won't work. I personally feel with funding from United Way and other sources, with our community support, and all the great people at the table at the same time coming up with this concept it definitely will work."
Fix also celebrated the events and accomplishments of the past year, which included raising $385,000 in last year's campaign, which was headed by Bill Fritts, who is directing the fundraising effort again this year.
The 10th Annual Day of Caring attracted more than 400 volunteers who worked at 35 sites.
"If you missed it, it's the highlight event Genesee County of all last year," Fix said. "Out of anything that happens in the whole entire county, it was hands down the best event. I think I've seen tie-dyed shirts in my sleep but it was the signature event of the year."
The backpack program starts back up next week and Fix said he's personally excited to get involved in that again, working with clients of ARC at the Salvation Army to fill backpacks with food to help children from needy families get through the weekends each week. There will be 180 to 200 backpacks packed each weekend.
There are two events left in the United Way's 5K series, the Acorn Run this weekend in the Genesee County Park & Forest, and the Stiletto & Sneaker 5K at the YWCA on Thursday.
Fix said all the agencies supported through the annual fundraising drive are making a big difference in our community.
"It's not easy," Fix said. "They can tell you that. I can tell you that from talking to them and working with them. And it's our United Way effort that helps support their organizations and helps them do the work that they do.
"I can't say that they wouldn't exist without it, but I know that their lives would be a heck of a lot harder if they didn't have that money. So we appreciate everybody who gives to the campaign."