June 2, 2017 - 11:25pm
Veterans honored and celebrated in two-day music festival at Frost Ridge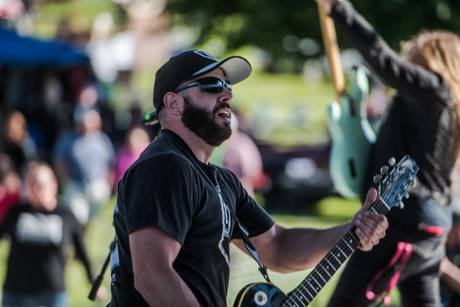 Dan Clor, a military veteran, and frontman for Los Angeles-based Weapon-X, took the stage this afternoon with D-ZL, the band he started his career with in 1997 when it played its first show at the Eagle Hotel in Le Roy. 
Clor and Weapon-X have been holding an annual music festival in Southern California for five years and this year, Clor brought it home, to Le Roy, and The Ridge Campground.
The American Warrior Concert, with more than 60 musical acts taking the stage, opened today and continues tomorrow (for tickets, click here).
The music starts at noon tomorrow, on two stages, with Weapon-X scheduled to play at 8:15 p.m.
The Red Osier Landmark Restaurant in Stafford is sponsoring the weekend of music.
Proceeds benefit the Warrior House, which supports wounded veterans.