February 11, 2019 - 12:28pm
Vigil held in Elba for Teresa Norton and Thomas Norton, who died in collision on Route 98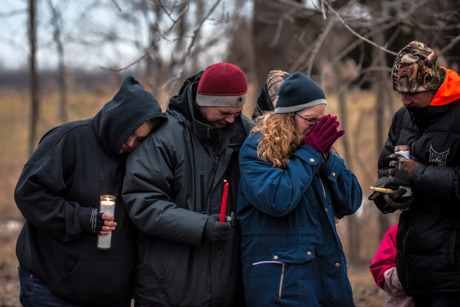 Friends and family surrounded Kimberly Albanese and David Robb on Sunday evening in Elba with love and support as they mourned and remembered their mother, Teresa M. Norton, and brother, Thomas M. Norton, at the spot on Route 98 where they were killed eight days earlier.
Teresa, 53, and Thomas, 22, both of Albion, were northbound on Oak Orchard Road when the 2008 Suzuki SUV Teresa was driving hit a deep patch of snow that had blown across the roadway. The Suzuki slid sideways and was struck by a southbound pickup truck.
Both mother and son died at the scene of the accident.
"She was a great mom," Albanese said. "She tried her best. She was my best friend. I miss her so much. Every day I want to call her just to ask her if everything is great. I don't know how I'm going to raise my 2-year-old and my baby. I have a baby due in two months.
"That's when you need your mom the most. My kids are never going to know her. And my brother was only 22. His birthday is in two weeks and he just, he got cheated out of life so much. But what are you going to do? You just go day by day."
A GoFundMe online fundraiser also has been established to assist the family, which has not only suffered the loss of Teresa and Thomas but they are also dealing with the health issues faced by Roger Norton, Teresa's husband. He has been in intensive care at Strong Memorial Hospital since several weeks prior to the accident.