November 30, 2018 - 6:40pm
Visiting Nurses Association opens new, larger office in Pavilion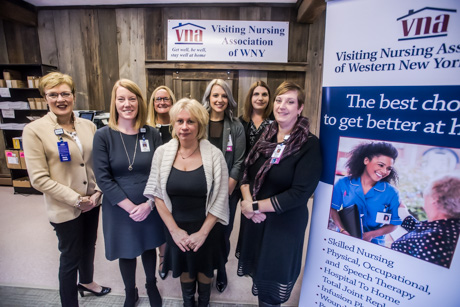 The Visiting Nursing Association hosted a grand opening today of its new office on Telephone Road in Pavilion.
The VNA is part of a regional network of providers based in Buffalo and the Pavilion office serves the GLOW region.
It consolidates offices that were in Batavia and Wyoming County in what VP Lisa Greisler said is larger and more convenient for the entire staff.
"We really wanted something that was centrally located for our staff and really for our referral services to know we're smack in the middle of where you need us to be," Greisler said.
There are 70 nurses, aides and support staff serving the GLOW region with an increasing need for more staff, so the new facility will help meet current and future demand. The nurses and aides make more than 28,000 home visits a year.
The office provides visiting nurse -- who mostly work remotely -- with a central location for doing paperwork, getting supplies and meeting with other caregivers.
"We're growing, which is good news," Greisler said. "This region, in particular, is continuing to grow with the number of patients we've been serving and it is growing every day so we're happy to be able to be here and serve."
Photo: Lisa Greisler, Judy Baumgardner, president, Peggy Weissend, Lyn Waldraff, Courtney Boss, Sarah Dufour and Wendy Swart.