September 6, 2016 - 8:56am
WBTA turns old stainless steel call letters into a work of art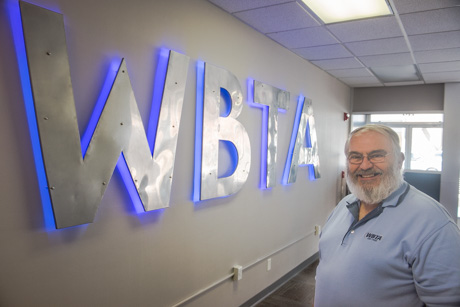 Rummaging around in the radio station's transmitter site on Creek Road a couple of years ago, WBTA's owner Dan Fischer found the old stainless steel call letters that once adorned the second-floor exterior of 90 Main Street, the radio station's first home 75 years ago.
When the radio station moved to Cedar Place some years later, so did the letters, but whenever the station's studios moved again, the letters were shuffled off to storage at the transmitter building and forgotten until Fischer uncovered them.
As part of a remodeling project at the station's current location at Main and Center, Fischer had the letters polished up and Jeff Gillard designed and built a mounting system that off-set the letters two inches from the wall and back lit them with LED lights.
The long hallway like area at the front of the office has always been a hard area to decorate, Fischer said. It was just a long blank wall and a few small pictures really did not do the space justice. The call letters are a perfect fit.
"They're obviously a showpiece, a conversation piece, they bring back the history of the station, they're 75 years old, and when you think of that, and most those years, they were outside, I think they held up pretty well," Fischer said.