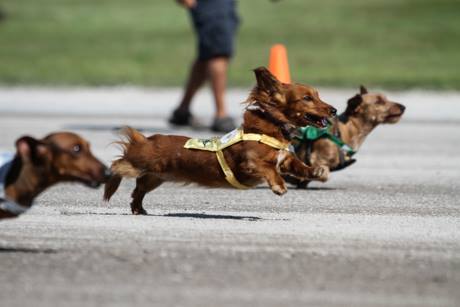 Press release:
Do you have a speedy Dachshund? That's what Batavia Downs officials are wondering as they have announced that registration is opening for the 2017 Genesee Feeds Dachshund ("Wiener Dog") races that will be held on Sunday afternoon (Aug. 27).  

All entered dogs will receive a doggie bag of gifts courtesy of Genesee Feeds of Batavia. The owners of all heat winners will receive $25 in gaming Free Play and the top three finishers in the championship race will receive Clubhouse buffet certificates and $100, $75 and $50 (first through third) in Free Play for the gaming floor. The winner's total prize package including the gaming Free Play is valued at $200.

Dachshund owners wishing to participate should call Batavia Downs Wiener Dog race coordinator Arna Tygart at (585) 343-3750, ext. 6437, or Sara Tenney, ext. 6430, and leave a message. Staff will call back to confirm. The races are limited to the first 80 dogs that register.

The Wiener Dog races will begin at approximately 4:15 p.m. and are the final event on the annual Family Fun Day at the Races at America's oldest lighted harness racetrack. Admission and parking are free.