Image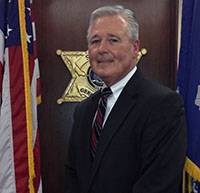 William Sheron
Press release:
Undersheriff William A. Sheron Jr., will seek the Republican Party endorsement for the 2016 election for Genesee County Sheriff.

Undersheriff Sheron, 57, has over 38 years of experience with the Genesee County Sheriff's Office; serving as second in command for the past 20 years. He began his career in June 1977 as an emergency service dispatcher and was subsequently promoted through the ranks of Deputy Sheriff-Jail, Deputy Sheriff - Road Patrol, Sergeant, Investigator and Chief Deputy-Road Patrol. In January 1996 he was appointed Undersheriff.  

Undersheriff Sheron is a graduate of the New York State Commission of Corrections Training Academy, Erie County Central Police Services Basic Police Officer Training Academy, New York State Division of Criminal Justice Police Supervision Course, United States Drug Enforcement Agency Drug Interdiction Course, New York State Division of Criminal Justice Hostage Negotiations, the F.B. I. National Academy in Quantico, Va., and the F.B.I. National Academy Executive Development Program.

Undersheriff Sheron is credited with the formation of the Genesee County Local Drug Task Force in 1989, which began as a one-man unit and developed into a county-wide collaborative Task Force with the City of Batavia and Le Roy Police Departments. He served as a Field Training Officer, Hostage Negotiator and a member of the department's Crash Management Team.

Over his career, Sheron has received departmental recognition awards including Officer of the Year in 1982, Meritorious Service in 2000 and 2009, and Commendation Awards in 1986, 1988, 1989, 1994 and 1996.

As Undersheriff, his responsibilities include: the oversight of the operations of the Sheriff's Office, along with the administration of grants and governmental programs; oversight of the department's training, development and adherence to departmental standards; investigation of allegations against departmental members; recruitment and selection of personnel; and responsibility of the operations of Genesee Justice and the Justice for Children Advocacy Center.

Undersheriff Sheron served as the 2006 president of the F.B.I. National Academy Associates New York State /Eastern Canada Chapter; has held several positions on its board of directors and currently serves as the Chapter's secretary treasurer. Sheron is an active member of the Genesee County Traffic Safety Board, Genesee County Stop DWI Advisory Board, the Mental Health Association of Genesee/Orleans County Board of Directors, Genesee County Republican Committee, Genesee County Women's Republican Committee, City of Batavia Republican Committee and Batavia Kiwanis Club. He previously served as the vice president of GCASA Board of Directors.

Undersheriff Sheron is a lifelong resident of Batavia. He attended St. Mary's Grade School, Notre Dame High School and is a graduate of Genesee Community College with a degree in Criminal Justice. He and his wife, Shari, are parents to a blended family of five children and six grandchildren.

"If endorsed and elected Sheriff, I pledge to continue my life's work of protecting the safety and security of the residents of Genesee County and the men and women of the Genesee County Sheriff's Office," said William Sheron, Undersheriff.