October 10, 2017 - 2:22pm
Woman who injured disabled person in car crash agrees to plea deal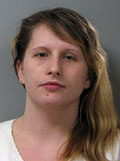 Nicole Sullivan
A Perry woman accused of recklessly causing serious physical injury to a male victim by means of a motor vehicle on Fargo Road, Stafford, in June 2016, entered a guilty plea in Genesee County Court today one count of attempted assault in the second degree.
Nicole Sullivan, 31, appeared in court today for an evidentiary hearing in advance of a criminal trial, but before the hearing agreed to the plea deal, which has no sentencing cap. Since she has no prior felonies, the Class E felony conviction carries of a possible prison sentence of one-and-a-half to four years, or one to three years with up to five years probation.
Sullivan was arrested 10 months after the June 10, 2016, accident in which she ran her car into a tree on Fargo Road with a disabled person as a passenger. She was also charged with endangering the welfare of an incompetent or physically disabled person.
While out of jail awaiting further legal proceedings Sullivan was arrested again and accused of taking part in a scheme to steal $700 in phone cases from Walmart.
Today's plea satisfies the charges from the 2016 crash and the theft from Walmart.
With her arrest, Sullivan's release status was revoked and she was ordered held on $5,000 bail or $10,000 bond. Judge Charles Zambito agreed to reduce her bond to $5,000, but not without a warning.
"I don't know if I'm going to sentence you to prison," Zambito said. "I have to read the pre-sentence report. If you make it out on bail and don't come back for your sentencing, you're going to get the maximum prison sentence."
Sullivan said she understood.