December 23, 2016 - 10:52am
YWCA receives donation to assist domestic violence program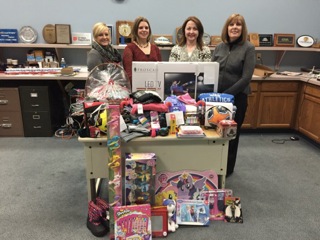 Lawley Genesee staff members Sherri Wahr, Beth George, Lori Crandall and Lisa Barie deliver a bounty of gifts to YWCA of Genesee County as a yearly effort to add some joy to a family affected by domestic violence that served by YWCA. The nonprofit has served more than 680 new domestic violence victims so far this year and is extremely thankful for the generosity of Lawley Genesee to brighten the lives of those impacted by domestic abuse, Executive Director Jeanne Walton says.
Photo and info submitted by Joanne Beck, YWCA.
December 23, 2016 - 11:30am
#1
680 victims ? that is 680 too many......
December 23, 2016 - 12:03pm
#2
Yes david, you're correct. However, it's an epidemic which happens everywhere and yes, here in Batavia. It's in the paper almost daily. Sadly, it goes unnoticed to quite a few. I applaud YWCA for what they do in this county. YWCA is one place who needs donations and doesn't ask for much. Hopefully some more exposure- a phone number to call? Person to contact? Where to donate? Will help the public understand what their needs are Howard?
Merry Christmas.