November 15, 2012 - 3:52pm
Accident reported in front of East Pembroke Fire Hall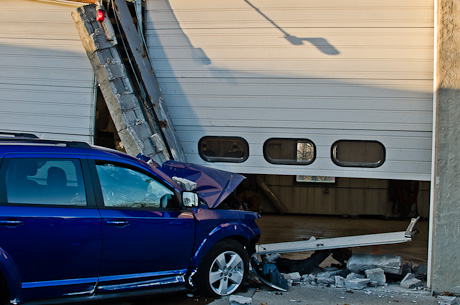 A motor-vehicle accident has been reported in front of the East Pembroke Fire Hall, 2623 E. Main Road, East Pembroke.
At the same time, the fire station's fire alarm has gone off.
The car has apparently gone through the door of the fire hall and struck a fire truck.
There is a report of one injury.
East Pembroke fire and Mercy EMS dispatched.
UPDATE 3:53 p.m.: The vehicle struck a center post on the building causing structural damage. Code enforcement requested to the scene.
UPDATE 3:56 p.m.: Both engines and the tanker are blocked in the building. The chief orders that as soon as the patient is extricated -- and the patient has been extricated -- that some pictures be taken and the trucks moved to another location as soon as possible.
UPDATE 4:02 p.m.: The fire chiefs will be notified in Oakfield, Indian Falls, Pembroke and Town of Batavia and crews will be assembled as they deem necessary to stand by in their quarters. One engine from the East Pembroke hall is out and available in case of fire, but that's it. Any other equipment needed to fight a fire would need to come from elsewhere.
UPDATE 4:15 p.m.: All the trucks from the East Pembroke Fire Station have been safely removed from the damaged building. But crews in other halls will remain on standby duty for the time being.
UPDATE 5:24 p.m.: The driver was eastbound on Route 5 and either fell asleep or blacked out due to a medical condition, according to Trooper Mark Catanzaro. Her car entered the west driveway, went airborne after cutting between a utility pole and the fire department sign and over an embankment, striking the post between two doors. No fire engines were damaged. The trucks are being relocated, according to Chief Don Newton, to Ron and Newt's. East Pembroke fire will be able to respond to calls from that location, but neighboring districts will also be called on mutual aid for most emergency calls. The trucks will be returned to the hall after repairs are completed, which will take one or two weeks.