April 3, 2014 - 11:56am
After 65 years in Batavia, Boyles Motors keeps on trucking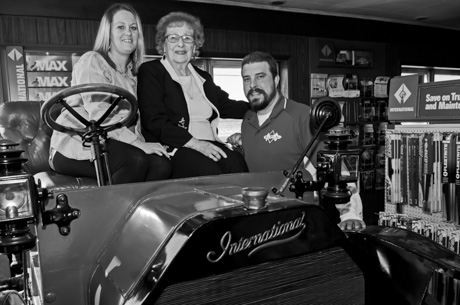 Boyles Motors has survived for 65 years because of faith and family, says Eva Fanara.
Fanara, who turns 91 years old next week, still works four days a week as a receptionist in the family business at the corner of Oak Orchard Road and West Saile Drive, Batavia.
"Oh, I'm just baggage now," Fanara said. "I'm just here to make sure they behave."
Her grandson, Jimmy Fanara, said Eva is really the foundation of the trucking parts, service and sales business.
As you would imagine, a lot has changed for Boyles Motors over seven decades, and the times haven't always been easy, but the Fanaras have stayed together and kept the business humming like a well-tuned engine even when the road got rough.
"Our customers know who we are," Eva said. "We've worked hard and we just keep working at it."
Eva's late husband, Vincent, was a regional sales manager for International trucks when the recently married couple moved from Buffalo to Batavia in 1949.
Two successful muck farmers, Roy Rowcliff and Bill Stuart, wanted to buy Boyles Motors after one of the original owners had a nervous breakdown. They asked Vincent Fanara to run the business for them.
At the time, Boyles was located on West Main Street, about where McDonald's is now. The dealership mostly sold light trucks and the International Scout along with some heavy trucks.
After the deaths of Rowcliff and Stuart, Vincent Fanara, a World War II vet, acquired the business.
"We just kept the name, Boyles Motors," Eva said. "We were known as Boyles Motors from here to California, so why change it?"
As the business grew, so did the family. The Fanara's had three boys, James, Paul and John. As the boys grew older, Eva pursued her career in teaching.
In 1971, the dealership moved to its present location, with a bigger emphasis on bigger trucks, though light trucks and Scouts were still part of the sales mix.
Things changed for Boyles Motors in 1973. Paul, then 19 and a student at Genesee Community College, was killed in a car accident.
Paul's death was hard on Vincent, Eva said.
"Vincent Fanara was having a hard time pulling it together here," Eva said. "He wanted to close. He didn't want to stay, but we had two other boys."
Eva decided to give up teaching and enter the business to help keep it going.
"I came in to meet the public," Eva said. "I'm a people person. I was no more an office person than the janitor of the place. I didn't know anything about the business. I was just going to go into permanent teaching at the time."
When Vincent died in 1987, James Fanara took over day-to-day operations.
"He had no choice," Eva said. "He had to do it."
In 1990, the Fanaras opened a second location with the encouragement of International in Jamestown. John Fanara runs that location along with Jimmy's brother Vincent.
Jimmy is in charge of parts and service at the Batavia location. His wife, Brandi, works at the store part time along with their daughter, Jenna. One of John's children helps in Jamestown.
The business also employs about 20 people.
At one time, Boyles employed a lot more people, Jimmy said, but the business has changed.
In the 1980s, International stopped making light trucks and the Scout. Then in the late 1990s, the company was sold to Navistar.
Around 2000, Navistar decided to eliminate many of its dealers across the country, so now Boyles is an affiliate dealership. It facilitates new truck sales still, but the new truck dealer for the region is in Rochester.
Jimmy said Boyles survives on parts and service and used truck sales as well as sales and service for Oshkosh snowplows and military equipment (primarily in Jamestown).
The company continues to thrive because of decades of providing great customer service, Jimmy said.
He recalled two stories about how the company strived to take care of its customers.
"We have a longtime customer in Elba and he told me once he needed an engine but at the time, he didn't have the money to pay for it," Jimmy said. "My grandfather said, 'pay me as you go,' and the farmer told me if not for that, he never would have made it."
Then there was the Elba farmer who sent a big bouquet of flowers to Eva when she was in the hospital once.
"He said when they were nothing, before they became the big farm they are today, he needed some parts, but he didn't have any money," Jimmy said. "She said, 'don't work about it.'  He paid her off, but he said that meant a lot to him at a time he needed it."
The family are members of Ascension Parish and attend St. Joe's. The children have attended, or attend, St. Joe's and Notre Dame. Eva goes to church every day.
She seems to have boundless energy and Jimmy said customers are often amazed to learn she's 90.
"They think she can't be older than 65," Jimmy said.
"Faith, family and work are my mottoes," said Eva, who just retired from delivering for Meals on Wheels after 50 years.
But she expressed no desire to quit her work at Boyle Motors any time soon.
"When you're working, you meet the young people and you know what's going on," Eva said.
Top photo: Brandi, Eva and Jimmy in a 1913 International that the original owners of Boyle Motors had left in one of their barns. It once served as the chariot for the Elba Onion Queen.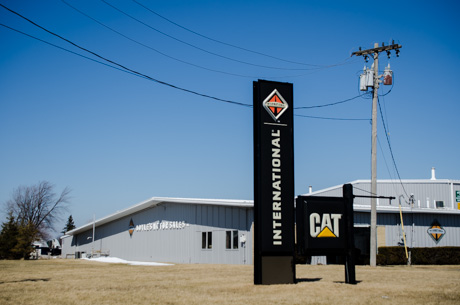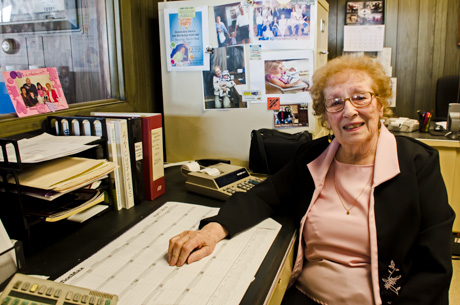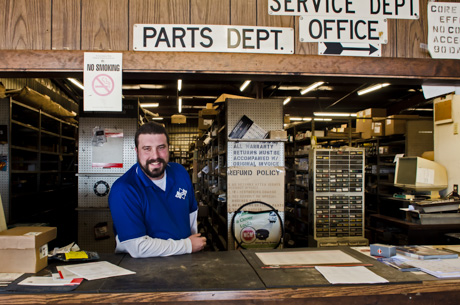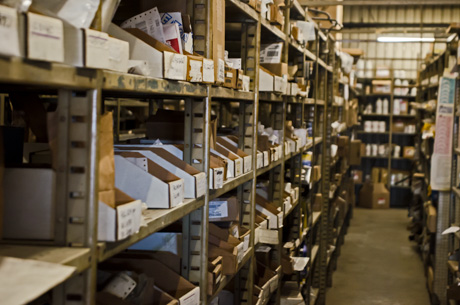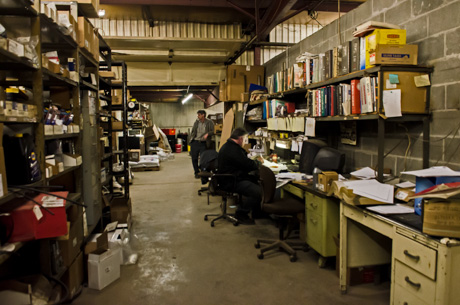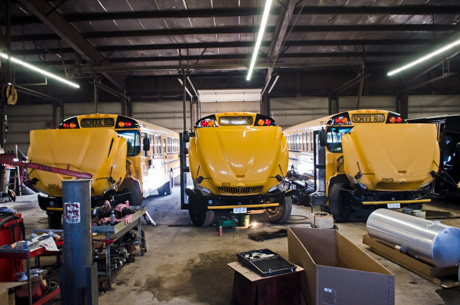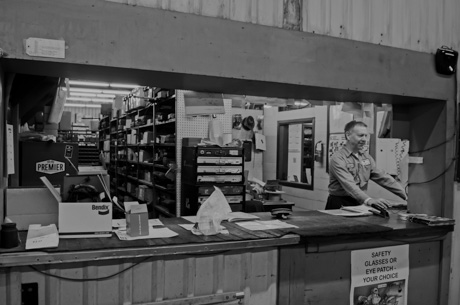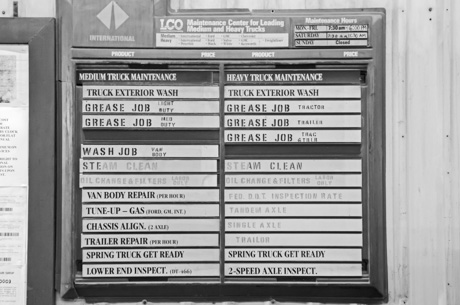 April 3, 2014 - 4:01pm
#2
I'm kind of one of those guys who can comment on anything. I recognize that it is due to low self esteem and the fact that my daddy never bought me a pony but all I can think of is holy mole (the good stuff). I wish I looked as good as Eva and then I wonder if she has a boyfriend. Yep, I think too much because of my large well educated brain and pot. Do they have pot in Batavia? If not, it might help your tourist trade. If you grow it I will come.
Billie, Howard says you are hot too and he is an honest man. But damn, from California?