October 11, 2013 - 12:36pm
Alexander man accused of stealing copper in Wyoming County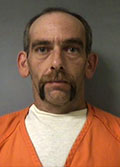 A Town of Alexander resident is being accused of scrap metal thefts in the Town of Orangeville, Wyoming County.
Todd C. Arnold, 44, of 4272 Broadway Road, Alexander, is charged with two counts of grand larceny, 3rd, and one count of criminal mischief, 2nd.
Arnold is accused of stealing copper from the Town of Orangeville Windmill Power Station.
The investigation into the alleged theft was conducted by Acting Sheriff Greg Rudolph, Forensic Technician Deputy Steve Miller, Deputy Katie George, Deputy Miachel Bentham, Attica Patrolman Brian Marsceill, Gensee County Sheriff's Sgt. Ron Meides and Investigator Bill Ferrando.
Following arraignment in the Town of Orangeville, Arnold was returned to the Genesee County Jail, where he is being held on unrelated matters. Bail on the Wyoming County case was set at $150,000.
October 11, 2013 - 2:24pm
#1
"...Bail ... was set at $150,000"!!
$150,000 bail? For copper theft?
Was there, like, a human being attached to that copper?
Seems a little like overkill, to me, anyways.
October 11, 2013 - 3:37pm
#2
Bail, at least directly, has little to do with the charged crime. Bail is set to assure appearance for future court dates. it's based on a combination of factors that include flight risk, prior history on court appearances and probation, other personal history factors and the seriousness of the crime. Grand larceny 3rd is a Class D felony, meaning, perhaps, a number of years in jail. Without seeing the entire bail recommendation report, it's impossible for any of us to judge whether the bail is appropriate or not.
October 11, 2013 - 8:22pm
#3
Yeah, thanks Howard. It just seemed exceptionally high to me, but, as you say, it may depend on all circumstances.