October 24, 2013 - 12:52pm
Alleged 7-11 robber ordered held without bail after not guilty plea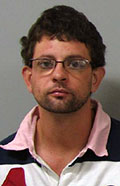 Michael C. Kraatz
A Batavia man accused of robbing the 7-Eleven on East Main Street in Batavia was denied a chance at bail today after pleading not guilty to the two felony counts against him.
Michael C. Kraatz, 34, is accused of robbing the convenience store Oct. 6 and is indicted on counts of of robbery, 2nd, a Class C violent felony, and grand larceny, 2nd, a Class C felony.
Kraatz was originally indicted on lesser charges, but the grand jury elevated the robbery charge and District Attorney Lawrence Friedman sought an elevated grand larceny charge after reviewing the statute and the alleged facts of the case.
"That (the robbery charge) was elevated based on testimony at grand jury that the robbery victim has suffered physical injury," Friedman said.
As for the grand larceny charge, Friedman said Kraatz was appropriately charged with third-degree grand larceny when he was arrested, but in an unusual quirk of the penal code, the same set of circumstances also apply to the higher level charge.
"He was properly charged with grand larceny in the fourth degree based on coercion and threat to cause physical injury or serious physical injury or the threat of death in the future," Friedman said. "In examining the statute, I discovered that not only does that spell out grand larceny in the fourth degree, but it also spells out grand larceny in the second degree. It's somewhat of an unusual situation, but the same elements make up grand larceny in the second degree."
Kraatz entered not guilty pleas to both counts today.
When Kraatz was originally arraigned in City Court, because of his prior felony convictions, the lower court judge did not have the authority to set bail. County Court Judge Robert C. Noonan could have set bail today, but ordered Kraatz held without bail.
The next scheduled court appearance for Kraatz is Dec. 13, when attorneys are expected to argue any motions in the case.
Also in County Court today, Jon T. Magliocco, entered not guilty pleas to the 17-count indictment filed against him. Magliocco is accused of being 21 or older and having sexual relations with a person less than 17 years old. He is being held on $50,000 bail.