We're pleased this morning to announce the launch of the Wyoming County Free Press, a new sister publication of The Batavian covering Wyoming County.
Just as The Batavian is all about Genesee County, the Wyoming County Free Press will be all about Wyoming County. The news will be Wyoming County news and the businesses who sponsor it will be locally or regionally owned with locations in Wyoming County.
The news will be free, just like it is on The Batavian, and we won't disrupt your news reading experience with pop-up ads, animated ads or require you to answer survey questions. (We'll also respect your privacy by not gathering personal data to distribute to multinational media conglomerates for so-called "targeted advertising.")
We will endeavor to provide wide-ranging coverage of Wyoming County so that people in Wyoming County both have a good idea of what's going on in their community, as well encourage greater community involvement and interest.
We're optimistic about this new venture. The feedback from the people in Wyoming County that we've spoken with so far has been fantastic (look at all of the local businesses that have already agreed to help support our effort).
The feedback has confirmed there is a need in Wyoming County for a news site that covers all of Wyoming County and just Wyoming County. There's no other news service meeting that need.
We're optimistic because we believe six years into The Batavian that our model of news and local business marketing is popular with readers and local business owners. The Batavian has become the most popular news source in the GLOW region and is supported now by more than 150 local businesses.
We're also heartened and encouraged to venture out by the success of Orleans Hub. Tom Rivers has done a terrific job of bringing community news to Orleans County and he and his publishing partner have been rewarded with strong support from the local business community. That helps prove there is a real hunger in all communities for online news that is timely and comprehensive.
Thank you to all the readers and sponsors in Genesee County who have supported us, making it possible to continue to grow as a business. If the Wyoming County Free Press works as well as we anticipate, it will help us do more to serve both communities better.
Please tell your friends about the Wyoming County Free Press and ask them to support our sponsors.
Meet our Wyoming County Editor - Julia Ferrini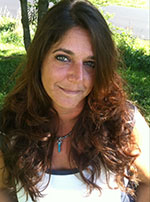 Billie and I are excited that Julia Ferrini has agreed to be the
Wyoming County Free Press
's inaugural editor. She's an experienced journalist having worked for newspapers in Delaware and on the Southern Tier. You may have noticed her byline on several stories on
The Batavian
over the past couple of months. We've gotten great reviews of her work from the people she's covered while freelancing for us.
Julia is a mother and resident of Eagle in Wyoming County. A native of Western New York, Julia has lived in the area for 16 years since returning from Delaware.
She has worked in a few other fields over the years, but says, "While I dabbled in other career choices, I kept coming back to the one that I just can't escape, telling the stories of a community through photographs and writing."
Julia can be reached at [email protected]
Thanks to Lucie Ann Griffis for all of her hard work over the past six weeks lining up our initial sponsors for the Wyoming County Free Press. Lucie will continue to traverse Wyoming County, meeting with small business owners, as we work to build the necessary support for the Free Press to be an ongoing success. Lucie can be reached at [email protected]
Of course, none of this would be possible with the always hardworking and dedicated Lisa Ace, our sales and marketing coordinator. Lisa can be reached at [email protected]
Our office number is (585) 250-4118.
Visit: the Wyoming County Free Press.
Like us on Facebook.