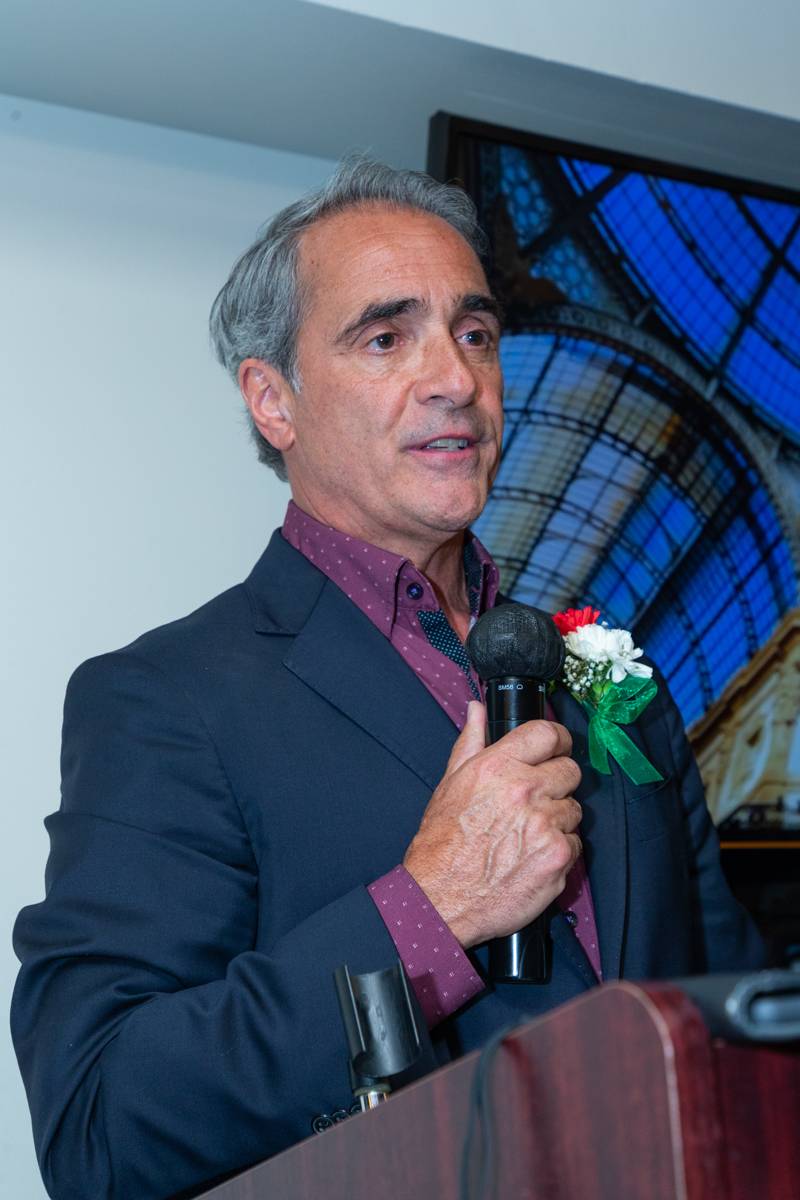 A dedication to family and friends and the Italian-American community in Batavia is why James Saraceni was recognized on Wednesday night at Batavia Downs as the Paolo Busti Foundation's Italian-American of the Year.
In his remarks, Saraceni spoke about his friends and family more than about himself and recalled the difficulties that immigrant Italians faced in trying to come to this country.
"Between 1880 and 1920, an estimated four million mostly southern Italians arrived on U.S. shores during these years," Saraceni said. "The Italians primarily came seeking economic opportunities they could not find at home. Southern Italy at the time suffered from a combination of unemployment, overpopulation and natural disaster -- natural disasters being earthquakes. Today, Americans of Italian ancestry are the nation's fifth-largest ethnic group."
On both sides of his family, his ancestors faced struggles to get to America. 
"My grandfather immigrated here, and it was nine years before he would see his wife and daughter again," Saraceni said.  "So when you hear about immigrants going through tough times trying to get into this country now, legal or not, a lot of you had the same story that it was not easy to do. And that just astonishing to me that they do that."
As part of the introduction of Saraceni, Board President Michele Fuller noted that Saraceni has served on the board for more than 15 years. He's served as treasurer and helped the organization in any way he could.
He was the board's unanimous choice for this year's award.
"We selected Jim because of his commitment to family," Fuller said. "You know how Italians feel about their families. I don't know anyone that is as loyal, caring and loving as he is to his family. He not only loves his children, he loves his nieces, his nephews."
His daughter is Alexandra Zelinsky. She said her father is a devoted husband, father, grandfather, uncle, and friend.
"My father's motive in life -- he dedicates everything he does to enable a more successful future for his family and prides himself on being hardworking," Zelinsky said. "As long as I can remember, he has instilled a work ethic in our family. He works tirelessly to ensure everyone around him is taken care of - his family, his friends, and his customers, which often includes working late into the evenings and answering calls no matter the time of day."
A big part of the annual dinner is the Foundation's scholarship awards.
This year's award winners are Sean Czyryca, Le Roy, Michael Marchese, Batavia, Cooper Fix, Batavia, Aden Chua, Batavia, and Kaylie Kratz, Notre Dame. For more information on each of the winners, click here.
To view or purchase photos, click here.
Photos by Steve Ognibene