December 10, 2013 - 12:26am
Baby Jesus stolen from steps of All Babies Cherished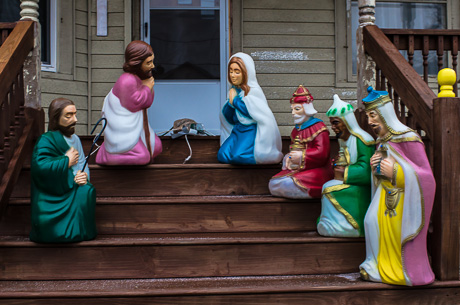 What's missing from this picture? Try, Baby Jesus.
Believe it or not, somebody actually stole Baby Jesus from the nativity on the steps of All Babies Cherished at 445 Ellicott St., Batavia.
Director Tammy Arneth's one wish for Christmas is just to get the Baby Jesus back.
"We survive just on donations," Arneth said. "I need to spend our money on diapers and baby formula. I can't justify buying another Baby Jesus."
All Babies Cherish is a faith-based organization that is supported by local churches. The goal is to assist women who have chosen to give birth to a child rather than get an abortion.
Arneth has been with the agency for 15 years.
She's shocked that somebody would steal their Baby Jesus. While she filed a police report, she said she isn't looking to get anybody in trouble. She would just like to see Baby Jesus returned.
(NOTE: This is among the stories lost to a server glitch. I was able to recover a copy of the story from Google's cache, but the original group of comments are lost.)