August 15, 2013 - 1:10am
Barbeau and McQuillen feud building for months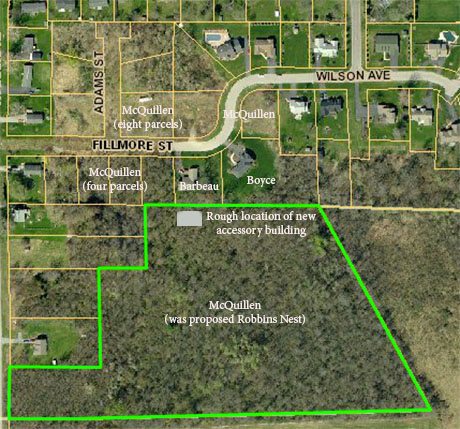 Stephen R. Barbeau and Peter A. McQuillen, two strong-willed men of means -- both with deep roots in the Le Roy Community -- now find themselves quite literally on the opposite sides of the fence.
A long trail of disputes reached an apparent boiling point Monday morning when Barbeau, the Town of Le Roy supervisor, was arrested on a second-degree harassment charge.
Barbeau is accused of shoving McQuillen to the ground causing a minor injury.
The tipping point seemed to be a tree that fell from McQuillen's property into Barbeau's yard.
Sometimes, though, a tree isn't just a tree.
For Barbeau, the felled tree was just another provocation.
Sure, McQuillen said, he's bitter, but nothing he's done was meant to provoke Barbeau. He claims he's tried to patch things up with Barbeau but was rebuffed and he said he's offended that so many people seem to have forgotten what he's done for the community.
The roots of the feud go back to last summer when Barbeau and his neighbors learned that McQuillen had drawn up plans to build 36 homes on 13 acres of land he owns off Robbins Road.
Barbeau lives in a tony neighborhood on the south edge of the Village of Le Roy, The newer $170,000-plus (assessed values according to public records) estate-style homes are situated on big lots and are on streets named after presidents. It's a quiet family neighborhood and residents say they are a tight-knit group who look out for each other's interests.
McQuillen owns the 13-acre lot that abuts homes owned by Barbeau and David Boyce, an executive with the Bank of Castile. He also owns more than a half-dozen other parcels in the same subdivision. He purchased the 13 acres about three years ago from Carol Durney for $13,000.
The new subdivision was going to consist of single-story homes valued at about $150,000 and reserved exclusively for buyers 55 and older. McQuillen's vision was that the homes would appeal to longtime Genesee County residents who were approaching retirement and ready to downsize and to rid themselves of yard maintenance and the need to climb stairs every day.
He was going to call the development Robbins Nest.
McQuillen carried the project through 11 different village, town and county approvals. When Barbeau and his neighbors fought against the project, McQuillen circulated petitions in the village and gathered 400 signatures in support of his project.
Then in September of last year, Barbeau and Boyce filed a lawsuit against the Town of Le Roy Planning Board claiming that its approval of the project had violated the law.
Barbeau and Boyce prevailed. Robbins Nest is dead. Killed, in McQuillen's view, by NIMBYs.
"I had to eat all my engineering costs," McQuillen said. "I got approval after approval. Eleven times it was approved. It continued to get approved and I continued to spend money ... yes, I'm a little bitter, but that has nothing to do with what I'm doing now. Absolutely not. I'm doing what I need to do to get reimbursed on what I have in an investment."
At the same time, he's also still fighting a lawsuit filed by the property's previous owner, Carol Durney. Durney accuses McQuillen of not revealing to her his plans for a subdivision prior to his purchase of the property. McQuillen thinks -- though admits he can't prove -- that at least two presidential subdivision residents are financing the suit.
On two of McQuillen's 13 parcels in the presidential subdivision, he is building two duplexes. One is nearly compete just down the street from Barbeau's luxury home. The other one, with only a foundation poured so far, is on the lot next to Barbeau's.
In the process of construction, McQuillen has cut down dozens of trees.
Along Barbeau's west property line, McQuillen removed every tree on his own property. Those were trees that Barbeau believes would have provided a nice privacy barrier for his home and whomever might eventually live in the duplex.
One of those felled trees came down on Barbeau's house, though it didn't cause any real damage.
"Mr. McQuillen didn't even contact us," Barbeau said during an interview Monday. "There was no coming over to say he was sorry or to ask if everything was OK."
On Tuesday, Barbeau let a reporter onto his property but said under advice of his attorney, he could not answer any more questions. 
Barbeau will be represented in his harassment case by Larry Andolina. Andolina, a Buffalo attorney, recently represented Gregory Phillips, the former City of Batavia firefighter who was accused of bookmaking and drug possession.
Before getting warned off by Andolina, Barbeau e-mailed several photos to The Batavian showing the trees that had fallen on his property along with a good deal of junk and debris that Barbeau claims McQuillen piled up near the back property line.
Another neighbor, Randy Bartz, shared photos of construction materials that had been stacked on one of McQuillen's lots. While the material was entirely on McQuillen's property, the placement visually was practically in Boyce's front yard.
Bartz thinks the placement of the material by McQuillen was done purely out of spite, and it made the view from the front porch and dining room of the Bartz home pretty unpleasant.
"We sit here every morning and have coffee," Bartz said. "We sit here every evening for dinner. We just didn't want to have to look at that stuff when we didn't have to. He has a bunch of lots here that are unoccupied that are closer to where he's building, so why not use them, unless, quite honestly, he's trying to aggravate."
McQuillen said he hasn't been trying to aggravate anybody. At the time the material came in, that was the best place to store it for access during construction.
The area residents seem to forget, McQuillen said, what the vacant lots looked like before he bought them, though Randy and Beth Bartz both said the vacant lots to their southwest, even though they are overgrown with vegetation, look much better than they did a few years ago.
"I've only owned the lots for three years," McQuillen said. "I moved in and cleaned up the property. There was a semi-trailer I hauled away, a partially built log cabin, and I can't tell you how many loads of steel and miscellaneous building materials and different things I hauled away."
The south-facing backyard of Barbeau's property is only about 20 yards wide. At one time, Barbeau and his wife could sit in their living room or dining room at look out on a thickly wooded lot.
For the past several weeks, the main thing they've been able to see is a garage McQuillen is building just feet from their back property line (it is beyond the legally required setback).
Among the pictures Barbeau shared with The Batavian, there was a bit of junk piled up on McQuillen's property in that location. Much of that junk is gone now, but there is still an old recliner and aluminum stairway laying on the ground.
Nobody really seems to understand why McQuillen picked that spot for his storage garage, not Barbeau, Randy or Beth Bartz, nor Candace Bower, another neighbor who has been watching the dispute between Barbeau and McQuillen blossom.
"That barn he's building back there, he could have built it anywhere," Bower said. "He didn't have to build it right there, right behind Steve's yard, right there. I think anybody who spent $300,000 to build a house and then sees that would be incensed. I know he shouldn't have pushed Pete, but you can only take so much."
The location of the building has nothing to do with Barbeau, McQuillen said. It's the most logical location for him to store his construction equipment and materials now, and then serve as a maintenance building for his duplexes.
He decided to build the garage after discussing the building material storage issue with Jeff Steinbrenner, the town and village code compliance officer. It was a way to deal with complaints from neighbors about construction material being stored outside.
Steinbrenner -- who has been in the code enforcement job for just a few months -- issued a building permit to McQuillen for the garage and then a few days later had to issue stop-work order.
Dan Lang, the Town of Batavia code enforcement officer who is working with the village and town of Le Roy under an inter-municipal agreement to help train Steinbrenner, said the building permit, according to village code, should not have been issued.
According to village code, Lang said, a primary building -- in this case a single-family home -- must precede an accessory building. McQuillen has yet to pull a permit to build a house on his 13-acre lot, the parcel the accessory building is on.
The code also allows McQuillen to keep construction going while the stop-work order is under appeal.
The appeal goes before the village's zoning board Aug. 27 (meeting time, 7:30 p.m.). 
If McQuillen pulls a permit for a single-family residence on the parcel, the chicken-or-egg issue of the accessory building largely goes away, and McQuillen said he fully intends to build a home for he and his wife on the property.
The fact that he is eventually going to make his home in the neighborhood is one reason he feels frustrated with people saying he wants to bring down their property values.
The one duplex he's nearly completed is a well-constructed building -- even Randy Bartz said it looks good and he doesn't object to it -- and McQuillen said the one he's building next to Barbeau's house will be even nicer.
Still, Randy and Beth Bartz said they're not happy with duplexes coming into their neighborhood. When they built their home, they thought the subdivision was zoned R-1. They didn't know -- and Candace Bower said she didn't know it either -- that there was already a variance in place to allow up to 10 duplexes in the subdivision.
"If we had known," said Randy, a retired state trooper, "We never would have built our dream home here."
The lawsuit filed by Durney against McQuillen alleges that McQuillen misrepresented his intentions for the property, that he falsely claimed that there were wetlands on the property and that a $10,000 sewer line would need to be built down Robbins Road.
Durney states in the suit that she reasonably relied on these representations by McQuillen and lowered her price on the property (she was intially asking $35,000). 
Benjamin Bonarigo, representing McQuillen, said in his answer that Durney didn't have standing to file a suit on many of the issues it raised and that any representations not included in the written contract were not binding.
McQuillen said he couldn't discuss anything related to the lawsuit, which is still pending.
As for his feud with Barbeau, McQuillen said he's tried mending fences. He said he went to Barbeau about his plans for the property next door and about the only response he got from Barbeau was a demand to build a higher privacy berm, reducing McQuillen's lot size.
McQuillen said he's truly puzzled by the response he's been getting to his development plans.
"I've done a lot for this village," he said. "I've built village streets with my own dollars. The homes I've built are high end. I really don't understand the fight. If this was Chili or Henrietta, they would welcome the buildings I'm putting up. I'm increasing tax revenues and the overall assessment of the properties. Where am I doing something wrong? I've not done anything for this neighborhood other than build it up."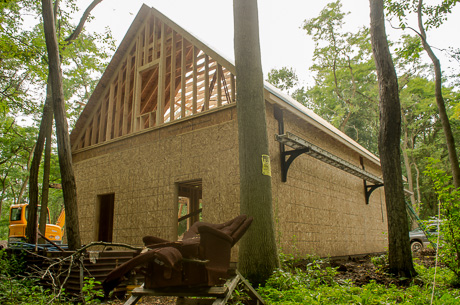 Accessory building under construction behind Barbeau's property. The string hanging in the lower right denotes the property line. (Photo by Howard Owens, taken from on Barbeau's property).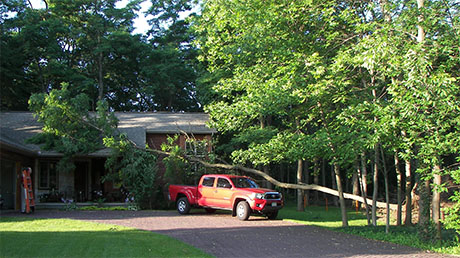 Photo provided by Steve Barbeau of tree that fell on his house July 11.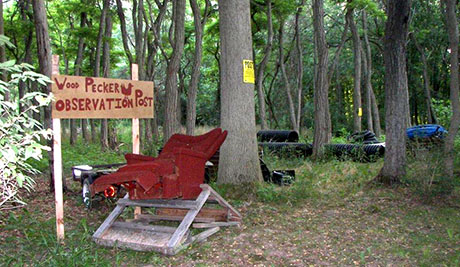 \
Photo provided by Steve Barbeau of what he said it looked like behind his house, on McQuillen's property, before construction on the outbuilding started.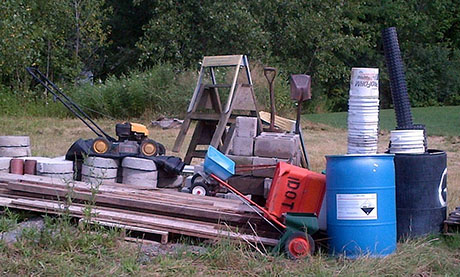 Photo provided by Randy Bartz of the construction material that had been piled up on McQuillen's property next to David Boyce's property.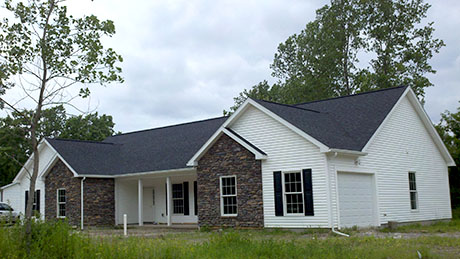 UPDATE: I should have gotten a picture of McQuillen's nearly completed duplex when I was in Le Roy Tuesday. Pete asked this morning why I didn't. It was a good point. Just an oversight on my part. He provided this picture.
August 15, 2013 - 9:52am
#2
Are roosters allowed in the Village? I think Pete should build a chicken coop right next to the maintenance building and get lots of roosters. I love the comments about duplexes. What the heck is wrong with a duplex? I grew up in Presidential Acres and there were duplexes on Franklin. Very nice, well maintained duplexes.