February 16, 2014 - 10:06pm
Batavia boys and girls track teams win Section V champions along with Le Roy boys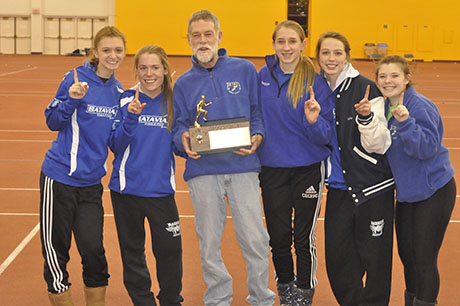 Both the boys and girls track teams from Batavia High School won Class C Section V championships in a meet at RIT last night.
Le Roy boys won the Class D title and the Le Roy girls came in second.
Batavia boys finished with 117.50, edging out Aquinas Institute, 74.50. The girls had 113 points and Wayland-Cohocton came in second with 110.
Le Roy boys beat UPrep Rochester 86-79, while the girls came in behind Marion, 71-60.
Individual event winners from Genesee County:
Kimmy Lovett, Byron-Bergen, girls 600 meter run
Batavia girls, 4x800 meter relay
Kristyn Mott, Batavia, girls pole vault
Julianna Lauricella, Le Roy, girls 600 meter run
Becca Schwan, Le Roy, girls 1000 meter run
Raelynn Moskal, Alexander, girls 1500 meter run
Le Roy girls, 4x400 meter relay
Le Roy girls, 4x800 meter relay
Alex Egeli, Batavia, boys 55 meter dash
Alex Egeli, Batavia, boys 55 meter hurdles
Batavia boys, 4x200 meter relay
Batavia boys, 4x400 meter relay
Devon Koepp, Batavia, boys shot put
Ryan McQuillen, Le Roy, boys 55 meter dash
John Woordworth, Le Roy, boys 1000 meter run
D.J. Ohlson, Alexander, boys 55 meter hurdles
Le Roy boys, 4x800 meter relay
D.J. Ohlson, Alexander, boys high jump
Ryan McQuillen, Le Roy, boys long jump
Ryan McQuillen, Le Roy, boys triple jump
Photos submitted by Nicholas Burk