April 20, 2013 - 7:53pm
Batavia comes up one point short in regional Mock Trials final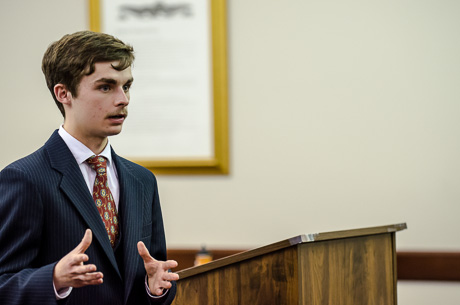 Batavia High School lost to Frewsburg, out of Chautauqua County, 51-50, this afternoon in the final of Regional Mock Trials Tournament.
Both teams were 1-1 in the finals, presided over by Eugene F. Pigott Jr., associate judge of the New York State Court of Appeals.
Frewsburg will compete in the state championship rounds in Albany.
It's the first time in the 31-year history of the tournament that a team from neither Monroe County nor Erie County will represent WNY and the Southern Tier region, according to District Attorney Lawrence Friedman.
The morning's semifinal rounds were close, with all four teams going 1-1. Batavia and Frewsburg advanced with 117 points each. Pittsford Mendon and Clarence had 116 points each.
Judge Robert C. Noonan and Judge Eric R. Adams presided over the morning rounds.
The Batavia team for 2013: Katie Porter, Elena Chmielowiec, Trey Abdella
McKenzie Stevens, Becca Canale, Eric DiLaura, Cara Ranalli, Katie Kesler, Kaitlin Logsdon, Matt Gabriel, Bryce Rogers, Danielle Quinn, Beth Bennion, Brandon Smart, Samir Jane, Dylan Beckman, Chelsea Jensen, Adam Weaver and Alex Mott.
The Frewsburg team: Sarah Moller, Samantha Mann, Tera Anderson, Alanna Blanchard, Jesse Ernewein, Anthony Mole and Morgan Knight.