Image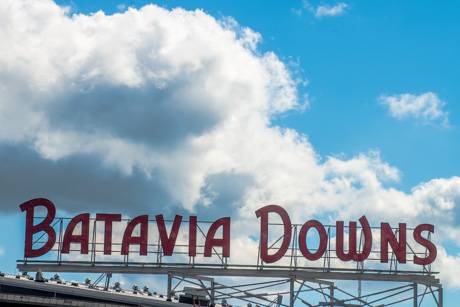 Landmark article by Jill Babinski:
Those of us that are familiar with Genesee County are aware that just two years ago, the Batavia Downs sign was replaced with a more modern, energy efficient version. Those who drive by it on occasion on their way to or from a destination would never know that there had been a change. Noting this, the Genesee County Landmark Society has chosen to recognize the Batavia Downs for ensuring that a historic sign, not only keeps up with modernity, but stays the same.
The Batavia Downs has a long history in Genesee County. The Batavia Downs racetrack opened in September 20th, 1940 until 1997. In 1998, it was purchased by Western Regional Off-Track Betting.  After special legislation was passed to allow WROTB to operate a live racing meet, racing returned on July 29th, 2002.
The Batavia Downs' landmark sign was installed in 1954. This sign was 11 feet by 79 feet. The original steel and neon sign cast its glow on the area until July 9th, 2012. Being made of neon, the original sign was prone to outages and the costs associated with fixing broken lights and powering it were rising. The Batavia Downs needed an option that was more energy efficient.
To meet this need, as well as retain the unique character of the original sign, the Batavia Downs installed an aluminum and LED sign, keeping the original design and size, on July 9th, 2012. This new sign will not rust and 90% less energy is used, ensuring that the sign will be seen by thousands of people for decades.
The old sign was not disposed of, but rather distributed to others. Some of you may recall that community members were able to pick up a letter if they had the means to. Check with your neighbor, they may have a piece of the Batavia Downs in their living room. One letter was donated to the Batavia Historical Society, and another still remains in the Batavia Downs' warehouse. The Batavia Downs intends on using it at some point when construction is completed.
Next time you drive by the Batavia Downs and glance at the letters, please remember that it is possible to retain history, while at the same time utilize modern technology and materials.