March 20, 2012 - 10:03am
Batavia knocked out of Mock Trial Tournament early; four teams left to vie for title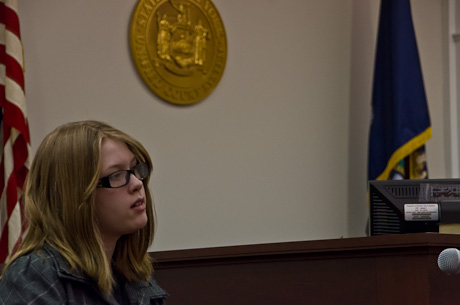 A team other than Batavia High School has a chance to win the 2012 Mock Trial Competition for the Genesee area, and following a quarter-final round Monday night, four teams are left, including two from Genesee County.
Those remaining are Pembroke, Notre Dame, Attica and Warsaw. They will compete at 5:30 p.m. Wednesday in the Warsaw County Courthouse.
It's the first time in the nine-year history of the competition that Batavia won't be among the semi-finalists.
In fact, the team that wins this year will be the first team in nine years not from Batavia to win.
The Blue Devils failed to even make the quarter finals.
A first-time quarterfinalist, however, was Pavilion, which had never won a trial before this year.
Pavilion has two new coaches -- Thomas A. Burns, a Batavia-based attorney, and Assistant District Attorney William Zickl Kevin T. Finnell.
The 2012 case involves an assault at a nightclub. The victim and the suspect were known to each other prior to the night of the attack. The victim bumped into the alleged attacker and spilled his/her drink. The suspect gave, according to witnesses, "a look that could kill." The victim was struck on the back of the head. The victim did not see the face of his/her attacker, but he/she believes he/she recognized the voice of the attacker singing a rap song about hitting a person on the head with a crowbar. The arresting officer is an admittedly rogue cop who works alone and uses his/her own investigative techniques. The cop previously Tasered and arrested the suspect on a case that was thrown out and for which the cop was disciplined and denied a promotion.
It's apparently a tough case for the prosecuting teams to win.
In mock trials, however, points are awarded on a number of factors and it's possible for the prosecution to lose the case but win on points, or conversely, the defense can lose the case and win on points.
The photos are of the Pavilion and Notre Dame teams.
Pavilion Team members: Joshua Yunke, Mackenzie Grasso, Tiffani Bragg, Hannah Smart, Gabrielle Henry, Heather Stefan, Austin Wolcott, Alexis Boundry and Sara Thompson.
Notre Dame team members: Meghan Zickl, Anneliese Aliasso, Andrew Fischer, Matthew Sausher, Kendra Wall, John Lapple, Ariana Aliasso, Rosalie Mortellaro, Jake Krajewski, Brittany Perzia, Caleb Nellis, James Spear, Anna Arner, Natalie Mouton, Katie Fischer, Andrew Cheverie and Rosemary Fulmerfeld.
Judges in the pictures are Eric, Adams, Jerry Ader and Micahel Mohun. Also judging during the quarter finals was William Zickl.
The finals will be at 5:30 p.m. Monday in the Genesee County Courthouse with Judge Robert C. Noonan on the bench.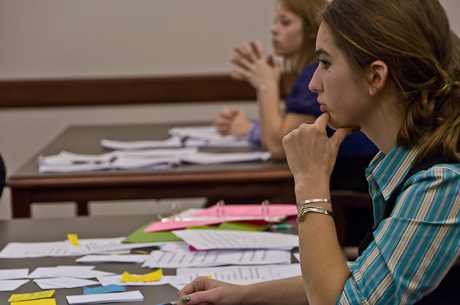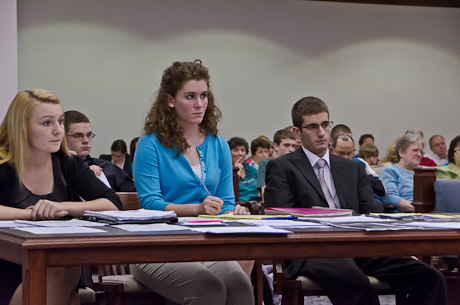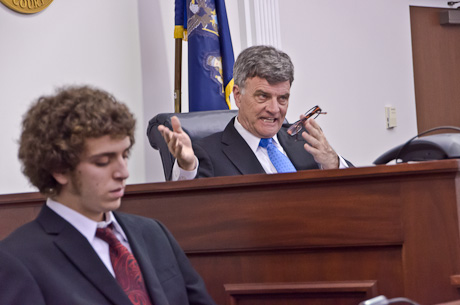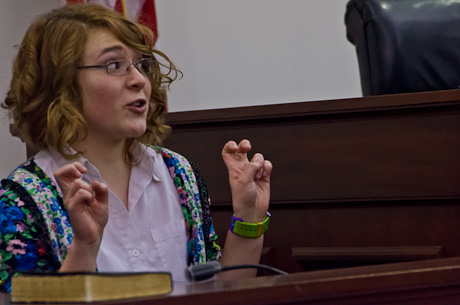 If you're unable to view the slide show, click here. To purchase prints of these photos, click here.