November 28, 2012 - 4:59pm
Batavia man admits to causing baby's brain injuries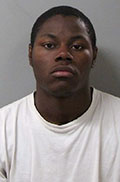 A Batavia man accused in September of causing a brain injury to a baby entered a guilty plea today to a single count of reckless assault of a child.
Twenty-four-year-old Randy Johnson faces up to seven years in prison on the conviction. The Class D felony carries no mandatory prison sentence, however, so the full range of sentencing options will be available to Judge Robert C. Noonan on Jan. 25, when Johnson is back in court.
Johnson entered his plea under what known as an Alford basis. The written charge contained a factual allegation that Johnson hit the baby's head on a hard surface. Johnson did not want to admit to that allegation as a fact.
The Alford plea allows Johnson to plead guilty on the assumption he would be convicted by a jury, but without admitting to any specific facts related to the charged crime.
In a written statement, and a spoken one he made today after his guilty plea, Johnson admitted to actions that led to the baby's injuries.
"I should have watched my actions," Johnson added after he said he was guilty on the charge.
In a written statement obtained by police Sept. 20, Johnson said that four weeks prior the baby he injured was crying and woke him up early in the morning. He said he was irritated and snatched the baby from its crib.
"When I snatched him, his head snapped back real fast, like a whiplash, then it went forward," he wrote.
On other occasions, Johnson wrote, he would play with the baby by throwing it in the air. At first, this made the baby laugh, but later it made the baby cry, and in the statement he admits that throwing the baby in the air and causing him to turn in the air, could have caused the baby's injuries.
According to Noonan, the baby's injuries consisted of subdermal and retinal hemorrhaging.
Johnson was arrested Sept. 25 and charged with three counts of reckless assault of a child. The plea satisfies all three counts.
On Aug. 24, Johnson took the stand in the Jacquetta Simmons case as a defense witness. District Attorney Lawrence Friedman attacked Johnson's credibility relentlessly while he was on the stand, indicating that Johnson had changed his story from his earlier interviews and what he testified to in court.
Johnson, as Friedman claim in court, has reportedly had numerous prior contacts with law enforcement. In 2009, he was charged with criminal mischief and unauthorized use of a motor vehicle. He was arrested in December 2010 on a harassment charge. In March 2012, he was charged with reckless endangerment of property.
November 28, 2012 - 6:07pm
#1
In a fair and just society, there would be no punishment harsh enough, save death, for those who harm helpless children.