January 2, 2013 - 11:50am
Batavia PD nabs suspected thief during alleged burglary in progress on Washington Avenue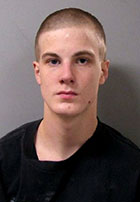 An alert neighbor spotted a potential burglary in progress on Washington Avenue on Tuesday leading to the arrest of a man police suspect may have been involved in other break-ins in the city.
Francis S. Smith, 19, of 20 S. Main St., Batavia, has been charged with burglary in the second degree and investigators are working to determine whether he may have been involved in other larcenies.
Smith is being held on bail in the Genesee County Jail.
His arrest followed a report of a burglary in progress about noon on Tuesday. Police responded, surrounded the residence and officers entered the residence and found Smith allegedly involved in a larceny of property from the residence.
A reader who was in the area at the time of the incident told The Batavian this is what he saw:
"The cops were yelling to someone inside to come out with their hands up. The man inside the house came out a second-story window on top of the porch roof. At that time the police drew their guns and ordered him to freeze and put his hands up. They brought the man back into the house and out the front door before putting him into the police car."
January 3, 2013 - 7:49am
#10
Sorry Chris I was a victim too, of parental abuse, victim of childhood rape and I have been the victim of crime that left me in a hospital for a week (someone broke in to steal my commodore 64 and hit me in the head w a baseball bat) So your assumption that comments are "stupid" is without basis an just as much an "injustice" You are welcome to your opinion, but you know what just because your circumstances are rough it doesnt mean that you have justification to turn to crime or victimize others. Thats a choice, I have been homeless3 times in my life, one=ce due to an abusive father. Twice more from fires in neighboring apartments that wiped me out. No matter how low I was laid financially there are programs and agencies that help you back up. The problem is most smartass kids think thug life is easier and quicker way to riches. Those that survive the lessons that teaches are the lucky ones. Not looking both ways while crossing the street is a childhood mistake, fighting with other kids or stealing their lunch money are mistakes. But breaking into someones home is a choice, attempting to evade police when caught in the act is a choice. If you are implying that this child of 19 is educated, then that makes his crimes even worse as he should know better if educated.
Now he will be educated in the lifestyle he chose, as far as I'm concerned there are no victims in prison they all made choices to get where they are, and that lifestyle has rules and "customs" that they follow that we have no control over. Our comments may be just as wrong or offensive but we are entitled to air them just as much as you are. And speaking for myself if he still continues to be a punk, then he will get his come uppance in that place, be it rape or a beating or whatever, no matter how tough you THINK you are theres always someone meaner, tougher and more determined to prove you are wrong. People sometimes need to have bad things happen to learn life lessons. Some of us learn better from little mistakes where the only victims are ourselves.