April 6, 2015 - 3:20pm
Batavia resident wins Non-Commission Officer of the Year from NY National Guard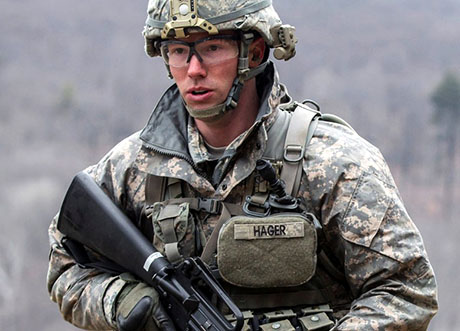 Press release:
Staff Sgt. Christian Hager, a Batavia resident and medical technology student, has been named Non-Commission Officer of the Year for the New York Army National Guard following a five-day competition at Camp Smith Training Site near Peekskill.
Hager, a member of Company A, 2nd Battalion 108th Infantry, competed with five other non-commissioned officers, during the event.
Hager, age 26, has served in the Army National Guard since 2008. He deployed to Kuwait in 2012 with other members of the 27th Infantry Brigade Combat Team. He serves as an infantry squad leader in his Guard unit, which is based at the New York State Armory in Geneseo.
He will now go on to compete with top NCO's from the other northeast states in a competition held at Vermont's Camp Ethan Allen. The winner of that competition goes onto compete against Army National Guard Soldiers from around the country.
The Best Warrior competition tests participant's physical fitness, military knowledge, Soldier skills, and marksmanship ability. Competitors fire the M-4 rifle on both a convention range and in a stress shoot which combines marksmanship with physical demands like running, towing a casualty stretcher, and carrying a heavy load.
This year the event also incorporated a swimming test, M-9 pistol marksmanship exercise and a 12 kilometer timed march with full pack.
Scoring well in these events enabled the participants to qualify for the German Military Proficiency Badge. The New York Army National Guard has an agreement with the German military representative at the United States Military Academy which allows instructors at Camp Smith to award the badge.
Hager was one of five of the 11 participants in the Best Warrior enlisted Soldier and Non-Commissioned Officer competitions to complete the requirements for this award.