September 20, 2013 - 5:46pm
Batavia woman with a few run-ins with the law accused of selling crack cocaine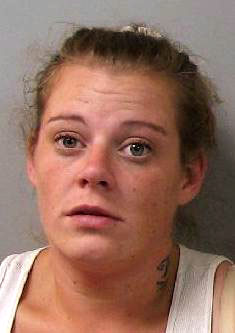 Toni White
A woman who previously testified in a burglary trial and who joined her spouse in the first same-sex marriage in Genesee County in 2011 was accused today of selling crack cocaine to an undercover agent.
Toni M. White, 32, of West Main Street Road, Batavia, was arrested on a sealed indictment alleging she sold a quantity of crack cocaine to an agent of the Local Drug Enforcement Task Force.
She is charged with three counts of criminal sale of a controlled substance, 3rd, and criminal possession of a controlled substance, 3rd, both Class B felonies.
White was jailed on $5,000 bail.
In 2010, White testified in the burglary trial of Reginald M. Wilson discussing the day Wilson drove her around in what turned out to be a stolen vehicle.
In September, 2011, White appeared in court with the woman she married the day before, Katrina Drake, when Judge Robert C. Noonan threatened to send Drake to jail on a violation of probation charge.
In the past few years, White has been arrested on charges of disorderly conduct (twice), petit larceny and trespass.
UPDATE 6:40 p.m.: The bail review of Toni M. White was conducted on Sept. 20 and she was released under supervision of Genesee Justice, with a curfew requiring her to be at her residence from 7 p.m. until 7 a.m. every day.