April 17, 2015 - 10:24am
Batavia's Jeff Redband makes first team in regional hoops honors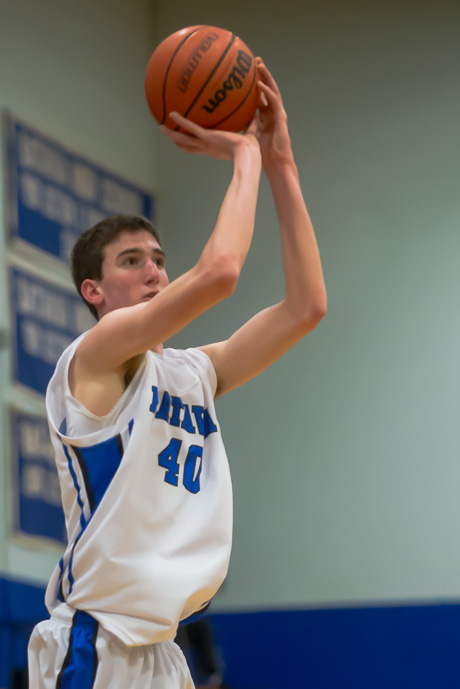 Batavia's Jeff Redband (file photo from the 2014-15 basketball season) tops the field of Genesee County student-athletes to receive All Genesee Region honors for winter sports, as published today by the Democrat and Chronicle.
Redband was Monroe County Division IV Player of the Year, a Section V Class A2 All-Tournament Team player. He averaged 27 points, nine rebounds and two blocked shots per game this season and led Batavia (18-3) to division title. He surpassed 1,000 varsity points, including a  51-point game (a school record) vs. Irondequoit. He made 40 percent of 3-pointers and 88 percent of free throws. Academically, he carries 94 average.
Later today, Redband will sign a letter of intent to attend Daemen College on a basketball scholarship.
Also honored:
Nick Egeling, Le Roy, Livingston County Division II, basketball
Ryan Cansdale, Pembroke, Genesee Region, basketball
Ryan Emery, Oakfield-Alabama, Genesee Region, basketball
John Hochmuth, Elba, basketball
Josh Johnson, Notre Dame, Genesee Region, basketball
Caleb Nellis, Notre Dame, Genesee Region, basketball
Hayden Ewell, Pavilion, Livingston County Division III, basketball
Tiara Filbert, Batavia, second team, basketball
Abbie Kelly, Byron-Bergen, second team, basketball
Lindsay Lovett, Byron-Bergen, Genesee Region, basketball
Shea Norton, Notre Dame, Genesee Region, basketball
Emma Francis, Notre Dame, Genesee Region, basketball
Rebecca Krenzer, Notre Dame, Genesee Region, basketball
Haley Brown, Elba, Genesee Region, basketball
Alex Reigle, Elba, Genesee Region, basketball
Kylie Schlagenhau, Oakfield-Alabama, Genesee Region, basketball
Sydney Breton, Alexander, Genesee Region, basketball
Aralyse Johnson, Pembroke, Genesee Region, basketball
Kayla Heimlich, Le Roy, Livingstone County Division II, basketball
Madison McCulley, Batavia, Monroe County, basketball
Kelsey Milligan, Pavilion, Livingston County Division III, basketball
Devon Koepp, Batavia, first team, indoor track
Ryan McQuillen, Le Roy, first team, indoor track
Nate Richardson, Alexander, Genesee Region, swimming
Tom Slenker, Alexander, Genesee Region, swimming
Kyle Zimmerman, Alexander, Genesee Region, swimming
Ben Vacanti, Alexander, Genesee Region, swimming
Brandon Brown, Alexander, Genesee Region, swimming
Jake Rada, Byron-Bergen/LeRoy, Genesee Region, swimming
John Lee, Notre Dame, Genesee Region, swimming 
Chris Lemley, Notre Dame, Genesee Region, swimming
Dennis Bleier, Notre Dame, Genesee Region, swimming
Nate DiSalvo, Oakfield-Alabama/Elba, Genesee Region, swimming
Ryan Dunlap, Oakfield-Alabama/Elba, Genesee Region, swimming
Trent Stack, Oakfield-Alabama/Elba, Genesee Region, swimming
Corde Smart, Oakfield-Alabama/Elba, Genesee Region, swimming
Michaela Austin, Byron-Bergen, Rochester Winter Track League, indoor track
Marissa Dispenza, Batavia, Rochester Winter Track League, indoor track
Kaylee Cassidy, Batavia, Rochester Winter Track League, indoor track
Joe Allegue, Batavia, Monroe County Division III, wrestling
Noah Dobbertin, Batavia, Monroe County Division III, wrestling
Reese Morrow, Batavia, Monroe County Division III, wrestling
Trevor Rittersback, Batavia, Monroe County Division III, wrestling
Tristan Aldinger, Alexander, Genesee Region, wrestling
Matthew Gaiser, Alexander, Genesee Region, wrestling
Dan Khomitch, Byron-Bergen, Genesee Region, wrestling
Hunter Taylor, Byron-Bergen, Genesee Region, wrestling
Chad Toal, Byron-Bergen, Genesee Region, wrestling
Adam Walter, Byron-Bergen, Genesee Region, wrestling
Alan White, Byron-Bergen, Genesee Region, wrestling
Nick Young, Alexander, Genesee Region, wrestling
John Lauricella, Le Roy, Livingston County, wrestling
Thatcher Mowry, Le Roy, Livingston County, wrestling
Ben Piazza, Le Roy, Livingston County, wrestling
Dane Heberlein, Alexander, Division II, Wrestler of the Year*
Nick Gaiser, Alexander, first team, wrestling