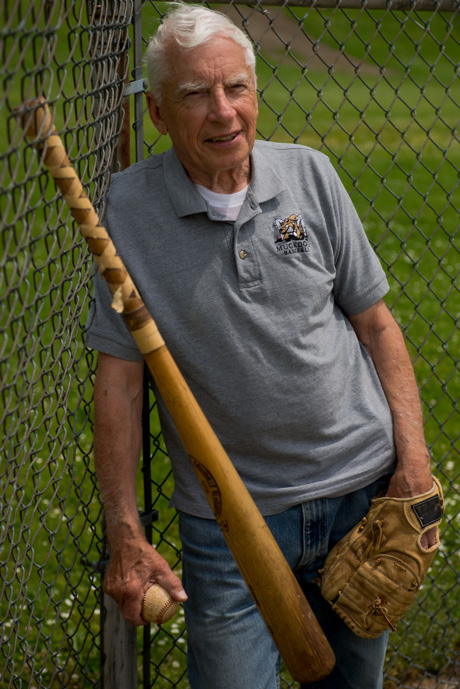 Spend a little time with Bill Dougherty, you're likely to hear a baseball story. He's full of them.
After years of telling friends these stories, one friend with a bit of experience in writing books suggested he collect his stories about Batavia baseball into a single soft cover collection.
"Bill Kauffman kept saying, 'you've got a book, oh this is a book'," Dougherty said. "He kept after me to put a book together. So I did."
This month, Dougherty's book, "A View from the Bleachers: Batavia Baseball," hit a few local store shelves.
Now that the book is out, Kauffman, an Elba resident and himself the author of 10 books and a screenplay, is eager to promote the new book. He sent over this endorsement:
Irish names festoon the history of baseball in Batavia: Dwyer, Callahan, Doody, Gerrety, Ryan. Add to that illustrious list Bill Dougherty, whose Batavia Baseball: A View from the Bleachers is a deeply researched, often surprising, and thoroughly entertaining account of baseball as it has been played, watched, and argued over in Genesee County from the 19th Century until today. Every baseball fan in the Mother of Counties should own a copy!
A worthy endorsement for a worthy book.
It's more than a collection of stories, or a mere recitation of baseball glories past in Batavia. It's also a history of Batavia and Genesee County as well as a personal remembrance of a man who made baseball his life's passion.
Dougherty spent countless hours going through historical archives, particularly the dusty, printed pages of 120-year-old editions of the Batavia Daily News.
He also draws on his own recollections from a his youngest days playing sandlot ball and in the park leagues of Batavia.
There was baseball in Batavia in the 19th Century, with a short-lived professional team setting up camp in town in 1897, but it would be in the following decade that the game began to flourish locally.
Every town had a team and rivalries were fierce, especially between Batavia and Le Roy. Dougherty covers some of the scraps between these teams.
In 1939, the Pennsylvania-Ontario-New York (PONY) League was founded in Batavia, with one of the original franchises set up in a new ballpark at MacArthur Park (the present site of Dwyer Stadium). 
Even with the arrival of a professional team affiliated with a major league club, and into the 1960s, semi-pro teams flourished throughout Genesee County.
Dougherty talks about more than just the teams and the games. He gets into the personalities and biographies of some the players who were from here or just passed through.
Among them, Joe Dailey, whom Dougherty admits becoming obsessed with.
"As you start picking out stuff, you can't wait to see where they lived, who they knew, where they died," Dougherty said, but Dailey was a particularly perplexing subject.
He died at age 37, and even though he came from a prominent local family, the Daily News gave his death notice a scant four lines. Dougherty had a heck of a time finding out more about him.
"It seemed like somebody was out there hiding everything," Dougherty said. "Then when I find something, I'm like, 'wow.' He led a short life, but it certainly was interesting."
Dailey was born in Batavia in 1876. He played on the 1897 professional team and when the team relocated mid-season to Geneva, he initially went with the team, but then didn't finish the season and returned home. He went to work in the family's furniture store and funeral parlor until his death from acute nephritis in 1914.
Dougherty covers quite a bit of the family's history, which is also a part of Batavia's history. An example of how this is more than a baseball book.
We also learn about Maud Nelson, who wasn't from Batavia, but played a bit of ball here. Billed as "champion lady pitcher of the world" at the turn of the century, Nelson barnstormed around the country, playing whatever semi-pro teams were up for the challenge.
In those early days, a bit of important baseball history had a Batavia angle. In 1912, after Ty Cobb was suspended for fighting with a fan, the rest of the Detroit team decided to go on strike.  Replacement players were brought in for one game. Among them was a kid from Batavia who played shortstop, Vincent Maney.
For decades, box scores credited Pat Meany as the shortstop that day, but Dougherty -- who is a member of the Society of American Baseball Research -- was able to gather enough convincing evidence that Maney is now correctly credited as the shortstop in that game.
A resident of Stafford, Dougherty made a career in heating and air conditioning (retiring in 2000), but he's made a lifetime of baseball. He's been secretary/director of the Genesee County Baseball Club (owners of the Muckdogs), is a member of the Rochester Baseball Historical Society and SABR.
Assisting in production of the book were Dougherty's son, Brian, (the publisher), his grandson Christopher (graphic design), Kathy Frank, typesetting, and Kauffman, editor.
The book also covers every big name baseball player who ever came through town, from Warran Spann, who pitched three times against Batavia when he was first starting his career, to Wade Boggs and Robin Young, who each played a few games at MacArthur Park.
In the book you can learn about Gene Baker (the first black manager with a major league-affiliated club) along with local sensations Walter Loos, Dick Kokos, Eddie Howard, Dick Raymond and Jackie Kelley.
In the late 1940s, when Dougherty was a teen, he became part of a serious sandlot ball team, the A.C. Shafters. The team played other sandlot clubs throughout the region and Dougherty devotes a chapter to the team.
There was a time locally when every park had a ball field and every field had a team and fields rarely were without a game.
Kibbe Park once had a ballpark with stands and dugouts. Today, there's just a softball field with a couple of benches. When Dougherty was out at the field Monday, mounds of dirt were piled on the infield. Dougherty just shook his head. "There was a time when that would never happen," he said. "There would be kids out here playing games all day."
Are there ever any games at Kibbe now?
Things started to change in the 1950s. The sandlot teams began to die off. The semi-pro teams started to disappear, too. From the early 1900s until the 1950s, nearly every city or village of any size in Western New York had a minor league baseball team, and as leagues folded, so did the teams.
Dougherty thinks kids today miss something with fewer teams around.
"I made lifelong friends from every step I played," Dougherty said. "Not every kid on every team. Not all nine or 12 or 15, but some guys I played with are still good friends."
The book is available in the front office of the Batavia Muckdogs, the Holland Land Office Museum and at Dougherty Heating on School Street, Batavia.