May 16, 2011 - 10:28pm
Bellavia says he's taking a stand against Corwin for the sake of the GOP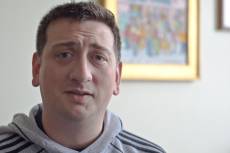 David Bellavia's dislike for Jane Corwin didn't just begin when he was passed over as a candidate in the NY-26 race. It goes back to Corwin's earliest days in politics.
And while Bellavia has taken a genuine shine to Tea Party-line candidate Jack Davis, he regrets that his support for Davis is being seen by some as just sour grapes.
Mainly, he supports Davis, he said, because he is an "honorable man" who knows what he stands for while he doesn't know whether Corwin is a real conservative or just an opportunist.
"She only believes what people within a 5-foot radius of her believe," Bellavia said. "If she's in a red district, then she's red. If she were in New Jersey, she would be a Patacki Republican. I can't honestly tell you what she believes because all she talks about is negative things. She tells us what's wrong with Kathy Hochul, but she expresses no beliefs, she has no plans. She's an empty-suit candidate."
Bellavia, a Batavia resident and a decorated Iraq War veteran, stopped by The Batavian's office Monday morning to discuss the race and why he's come out in favor of Davis and against Corwin.
In 2006, Bellavia backed Republican Tom Reynolds against Jack Davis, and in 2008, even though some in the GOP had encouraged him to run, he backed Chris Lee's campaign. When Shirtless Chris Lee vacated the office, Bellavia let the GOP leaders know he wanted to be the candidate, but Erie County Republicans, particularly the Chris Collins' wing, had another idea.
In a weighted-vote system that disenfranchised GLOW Republicans, the Erie County GOP handpicked Assemblywoman Jane Corwin.
Even so, Bellavia said, after he couldn't get on the ballot as an independent candidate, he was prepared to sit out of the race. But then, the smear campaign started. There were e-mails to his wife's coworkers and bosses suggesting nefarious conduct by Bellavia.
Until this election Bellavia has been a loyal Republican. But he believes the whisper campaign was orchestrated by Erie County GOP Chairman Nick Langworthy. He said Langworthy denied it. Langworthy couldn't be reached for comment.
Bellavia believes the Langworthy/Collins camp is taking the Western New York GOP in the wrong direction, that Corwin isn't suited for the office she seeks. While he doesn't agree with Davis on all issues, at least Davis will give you an honest opinion, according to Bellavia.
The questions Bellavia has about Jane Corwin's character began, he said, when they met at a GOP function where she told the group they were talking with that she would never use her own money for an election campaign.
At the time, Bellavia said, he didn't know who Corwin was or the Lewis family/Talking Phone Book connection.
Later, when Corwin had an opportunity to run for Assembly, according to Bellavia, Corwin promised to drop $500,000 of her own money into the race. The self-funding vow immediately caused the other GOP hopefuls to drop out of the race.
He found Corwin's seeming double-speak distasteful, he said.
"Conservatives should stand for truth and honesty," Bellavia said. "We don't say just anything to get elected."
When the nomination process came around for the NY-26 special election to fill the seat vacated by Lee, Bellavia said he witnessed Corwin use the same tactic. Corwin, he said, promised to spend $5 million of her own money on the race.
So far, she's only put about $2 million into the race and outside money is flooding into the district to shore up her campaign.
"That's money conservative Republicans in other districts are going to need to protect their seats," Bellavia said. "Instead of spending her own money like she promised, she's taking money that the Republican Party will need."
Bellavia believes the NY-26 should be represented by somebody from one of the rural counties, which are the reddest part of the district. He thinks Erie County Republicans, led by Colins and Langworthy, hold too much sway – and aren't conservative enough – to get the NY-26 the kind of representation it deserves.
They also represent too narrow a base of Amherst, Range Rover Republicans to truly reflect the more diverse parts of the district, or the working class, rural counties.
"Where are the black conservative Republicans?" Bellavia said. "Where are the conservative Hispanic Republicans? You know they're out there. Where are they? Where are the farmers? Why can't we be represented by a farmer?"
The thirtysomethings gaining power in the ECGOP, Bellavia said, are unprincipled, lack values and aren't true conservatives.
He wants to see them stopped before they become entrenched, which will only happen, he said, with a Corwin defeat.
"If she loses, I can guarantee you, the next candidate will be a conservative," Bellavia said.
"If I have to be the one to fall on a grenade to change the direction of the Republican Party in Western New York, then I'll be happy stay out of politics, to just raise my kids and stay right here in Batavia," he added.
Which raises the question, is Jack Davis a conservative?
"He's right on a lot of issues," Bellavia said.
Bellavia then listed off trade (he characterizes Jack's position as "fair trade"), he's right on the Second Amendment (he noted Davis has a substantial gun collection and loves guns), and Davis has said he will caucus with the Republicans and the Tea Party. He said Corwin hasn't said that she will caucus with the Tea Party.
In fact, Bellavia said that typically, the Tea Party movement is supposed to stand against mainstream, GOP insiders, and today, the Tea Party Express was in Buffalo endorsing Jane Corwin, the epitome of a GOP insider.
As for abortion – Bellavia is staunchly pro-life -- he disputed claims that Davis has said he supports partial-birth abortion. While he doesn't agree with Davis's overall position on abortion, he said Corwin's position is even worse.
"She said she favored allowing abortion in the first trimester," Bellavia said. "Nobody talks about trimesters. Either you're pro-life or pro-choice. You only talk about trimesters if you're a career politician trying to have it both ways."
Bellavia said he was disappointed in New York pro-life groups when he went to them to seek support for his candidacy and was told they were going to sit on the sidelines in this race. He said one group announced that Corwin is "pro-life enough."
As for the other candidates in the race, Bellavia said he personally likes Kathy Hochul and Ian Murphy. He called Hochul a "good Catholic and strong woman." He also said she's a liberal Democrat and disagrees with her on a lot of positions.
As for Murphy, he said the Green Party candidate is smart and funny.
"If Murphy gets (as much as) 2 percent of the vote, it's going to be an embarrassment for Corwin," Bellavia said. "He's nailed her character. He saw in her what the Republicans should have seen in her."
As for regrets, he has a few.
Bellavia said he likes Assemblyman Steve Hawley but regrets that he got off on the wrong foot with him.
Early on, Bellavia admitted, he said that Steve never would have been elected to the Assembly if his name was Johnson rather than Hawley. He knows that really offended Steve and he never should have said it.
Then, in the run up to this race, word leaked out that Collins, Langworthy and Carl Paladino offered Bellavia Steve Hawley's Assembly seat if Bellavia would drop out of the congressional race (the plan was, Hawley would move to Ranzenhofer's Senate seat and Ranzenhofer would become a judge). 
Bellavia regrets that a discussion that was supposed to remain behind closed doors among a small group of people leaked out.
He said it was an unfair to Hawley that the conversation was leaked. 
"It didn't come from me. I never said a word," Bellavia said. "I never even considered it for a minute and I wouldn't take such a deal."
Bellavia's other regret is that some people think he's just the "candidate scorned" and that's the only reason he's backing Davis.
"Honestly, 90 percent of my initial response was these guys were so nasty that I wanted to get back at them,  but I stand with Jack today," Bellavia said. "I could have just stood back and lobbed bombs, but Jack Davis is an honorable man. I honestly believe in Jack Davis."
We left two phone messages with Matt Harakal, spokesman for Jane Corwin, and invited him either to provide answers to interview questions or submit a response of any length at any time after publication. We followed up the phone offer with an e-mail. We also reached out to Nick Langworthy for comment and would welcome a written response from Langworthy.
It should also be noted that we've extended at least a half dozen invites to Jane Corwin to stop by The Batavian office for an interview. We've never gotten a yes or no response from Harakal to any of those requests.
Loren - "On the evening of November 10, 2004, U.S. Army Staff Sergeant David Bellavia stood in the street outside a house in Fallujah, Iraq. Moments earlier Bellavia and eight other men from Third Platoon, A Company, Task Force 2-2 IN, had been trapped inside, pinned down by enemy fire. They had entered the house in an attempt to clear it of insurgents when two enemy fighters, hidden under the stairwell behind a three-foot barrier, opened fire with AK-47s and a machine gun. Ricocheting bullets peppered the entrance of the house and the soldiers' only means of escape. Borrowing an M249 SAW from one of his men, Bellavia stepped into the hallway and opened fire, forcing the insurgents to duck behind the barrier and allowing the Americans in the house to escape. Bellavia continued firing until running out of ammunition and exiting the house. Upon rejoining his men, Bellavia began to feel guilty, that he had let them down. He had never run from a fight before. Realizing that he had to go back in, he ordered some of his men to cover the windows and corners of the house while another soldier accompanied him inside. The two insurgents sat waiting behind the stairs. Bellavia could hear them whispering to each other. Taking refuge in the living room, Bellavia tossed a grenade down the hall, missing long as it flew out the back door and exploding in the garden. Looking around the room for another means to attack, Bellavia noticed mirror fragments on the wall. Not only could he see the insurgents, they could see him. One of the insurgents was young, holding two AK-47s, while the one manning the machine gun was older. Suddenly, the younger one prepared to launch a rocket, which would have set off the propane tanks that lined the room – a trap meant to kill any Americans who attempted to take the house. Recognizing that he had to act, Bellavia rushed into the other room, catching the young man by surprise before he could fire and taking him out with his M16. As he other insurgent made a run for the door, Bellavia fired in his direction, unsure of whether his shot was on target. Moving to take cover near the stairway, and alone after his comrade had been hit and was forced to evacuate, Bellavia noticed another insurgent in the kitchen nearby. After firing a few shots and taking cover, the insurgent ventured toward Bellavia's location, searching for his target. Before he could react, Bellavia was able to fire off several rounds, quickly killing him. Just after eliminating another insurgent in a nearby bedroom, bullets slammed into the wall near Bellavia's head. Realizing he was not alone in the room, he made his way toward the closet, where he noticed two splintered holes. Right then, the insurgent broke out, making a run for the next room as Bellavia hit him with two shots in the leg. Hearing movement in the room next door, Bellavia suddenly notices a voice, speaking in a thick accent. "I will kill you and take your dog collar. Your mommy will never find you," taunts the voice. Turning on his night goggles, Bellavia catches the man peering into his room, killing him with his M16 before he knew what happened. Rather than evacuate the house to bring in reinforcements, Bellavia reloaded his rifle and moved for the stairs. His luck continued as he slipped in a pool of blood just as an enemy round slammed into the wall where his head had been. Bellavia quickly recovered and tossed a grenade into the room the shot had come from. After hearing the explosion followed by a groan, he knew he had his man. As he leveled his M16 to finish off the insurgent, Bellavia noticed that the room was packed with propane tanks, a bomb waiting to be set off by an errant shot. Knowing that to fire his weapon could be suicide, Bellavia attacked the insurgent with the butt of his rifle. The terrorist fought back, and the two became locked in hand to hand combat. Suddenly, Bellavia remembered that he had a Gerber knife in his belt, which he used to finally subdue his enemy. Trying to clear his mind from the events that just took place, Bellavia heard a loud crash, as another man jumped from the roof, landing on a nearby patio just outside. Bellavia fired two more shots, before running out of ammunition. He grabbed he AK-47 of the nearby dead insurgent, firing rounds into the final terrorist until he fell from the patio to the garden below. Out of energy, Bellavia, sat down and lit a cigarette, waiting for the other Americans to join him. It was his 29th birthday, spent in a far different place and in much different circumstances than he could have ever imagined. David Bellavia would be awarded the Silver Star for his actions during the Battle of Fallujah. He has also been recommended for our nation's highest military award – the Medal of Honor – for his valor that day. Since leaving active duty, he has become one of the strongest and most articulate advocates for those who have served in Iraq and Afghanistan. It is for this courage, and for his tireless support of his fellow veterans of this new generation, the American Veterans Center is proud to present David Bellavia with the 2009 Paul Ray Smith Award."
http://www.americanveteranscenter.org/events/conference/awards/paul-ray-...