June 27, 2012 - 1:51am
Bellavia thanks volunteers, pledges support to GOP after primary loss to Chris Collins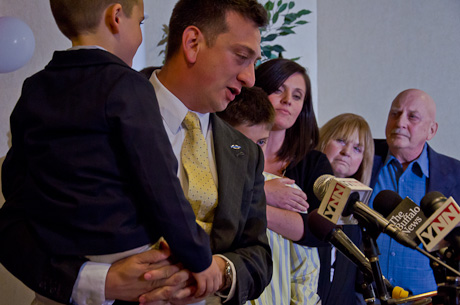 In the end, David Bellavia expressed more regret for his volunteers than he did for himself.
"I'm just exhausted," Bellavia said. "I've been walking so many miles and...so many doors...and I'm just trying to think in my head, what could I have done more, what could I have done, but at the end of the day, I'm just so sorry to all of these volunteers who gave me so much time and effort. I just feel really bad that I let them down."
The decorated Iraq War veteran thanked several of his volunteers by name during his concession speech at the Clarion Hotel in Batavia on Tuesday night. He then pledged his support to the Republican party and the effort to defeat President Barack Obama and Rep. Kathy Hochul in November.
"I spoke to Mr. Collins and I congratulated him on his victory," Bellavia told his supporters. "I'm telling you right now, we are going to lock shields as a party. We are going to stand in the trenches shoulder to shoulder."
After a campaign in which Bellavia characterized Collins as a "country club Republican" who was out of touch with the rural voters of the GLOW counties, the natural question for Bellavia after his speech: Did you just pledge to stand behind Collins?
His answer, "We're going to talk. I stand behind the party and the process. I don't make any excuse for whether it's perfect today. We lost. I have kids and it's important that they understand that you have honor when you win and you have honor when you lose. I have no excuses. I'm a Republican. I want to see Republicans win. Chris and I will talk in the future and we'll move forward."
If Bellavia backs Collins, it's unclear if many of his GLOW supporters will follow.
But at the Clarion on Tuesday night, one of Bellavia's volunteers clearly said she won't vote for Collins in November.
Michelle McCulloch believes Collins was at least tangentially responsible for losing her staff position with State Senator Michael Ranzenhofer.
"You're asking a person who lost her job because Chris Collins didn't want me helping someone else in the race," McCulloch said. "I have never tried to work against my party, but I have no use for Mr. Collins. I know what he is and he knows what he is. He will never have my vote or my family's vote."
Asked if she would help Hochul's campaign, McCulloch said, "I'll see how things play out. I guess I'll listen to Kathy Hochul and see what she has to say and go from there."
McCulloch was among the volunteers Bellavia singled out for thanks during his concession speech.
"Michelle McCullough has sacrificed so very much for me and on the side of honor, principle and integrity," Bellavia said. "Your family is beautiful. Your husband is an outstanding man. I'm so sorry for what you've had to endure and we're going to make it right."
Collins will now face Hochul, who won her seat in a special election in May 2011 in which she attacked Collins ally Jane Corwin for her support of the Paul Ryan Budget Plan. Within an hour of Collins declaring victory on Tuesday, the Hochul campaign sent out a press release attacking Collins on the same topic.
Statement from Campaign Manager Frank Thomas:
"Chris Collins has made it a hallmark of his campaign to avoid taking positions on key issues. But one thing is clear, Mr. Collins supports Paul Ryan's budget; a plan that turns Medicare into a voucher program and makes seniors pay $6,400 more for their Medicare benefits to fund tax cuts for multimillionaires. He has even has said that it does not go far enough.
"It is time that Chris Collins comes clean with voters about his plans to take the Ryan's budget further. What more could he do on top of decimating Medicare and protecting the super rich? We hope that now that he is the nominee he is willing to answer questions on the issues that matter most to the people of the 27th district."
Previously: Collins landslide in Erie County sinks Bellavia in NY-27 GOP primary
PHOTO: Bellavia during his concession speech with his wife, Deanna, his children and parents (not pictured, his brother, Rand).
June 27, 2012 - 2:17pm
#4
...Can't wait for the Collins robocalls! I heard that he secured Clarabelle the Clown to do the narration. "Hi, kids! It's Howdy Doody Time! Who's the funniest clown we know?
Chris Collins! Who's the clown on Howdy's show? Chris Collins! His pockets are deep but the rest of him's shallow; Still Erie County bosses will never do without,
Chris, Chris, Collins!
Who has fuzzy logic? Chris Collins! It's partly his but mostly someone else's. Chris Collins! And since the day that he was born, He's honked and honked and honked his own horn. Chris, Chris Collins!"