September 16, 2014 - 5:20pm
Ben and Joyce Davis, Outstanding Exterior Paint Treatment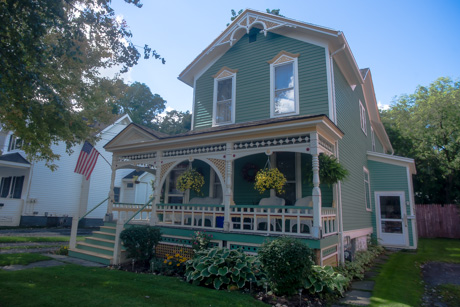 Landmark article by Dorian Ely:
This Folk Victorian house at 9 Vine Street, Batavia is owned by Joyce and Ben Davis.  The house was built circa 1880.  The current owners acquired the property in 1984.
This is a typical Folk Victorian characterized by the front gable and side wing; a low-pitched, pyramid shaped roof; and a front porch with spindle work and flat, jigsaw-cut trim.  However, in recent history the beauty of the house was hidden.  The Davis's describe the house as having been "battleship" grey for many years before they were able to get to work on it and bring out the architectural details.
Joyce and Ben looked at many Victorian home paint schemes before settling on the four colors to articulate the individual elements.  Ben, a carpenter by trade, has been doing the work with a couple of helpers.  While the house was essential intact, as Ben has been working around the exterior stripping off the grey paint, he has replaced the old clapboards with new cedar boards and milled and replaced missing decorative elements.
Additionally, Ben has used existing elements in new ways, for instance Ben copied the porch skirting for the sides of the porch steps.  With the new paint, the extensive decorative elements including: spindle work; flat, jigsaw trim; gable gingerbread; lattice work arches; and prominent window caps are more visible.  The house also boasts beautiful leaded glass windows and like many of the older Folk Victorians, it has a bay window.
The house is not the Davis's home, but rather a property that they rent out.  They are fortunate in that they have had two long-term renters who also care about the house.  Not only do they care for the interior as though it is their own, but Nicole, who lives on the first floor, has beautified the property with period sensitive additions: plantings such as hostas, hanging porch baskets and wicker furniture.
Joyce and Ben describe the house as a work in progress.  Ben's next project is to copy the decorative details of the front porch railing for the second floor porch surround.