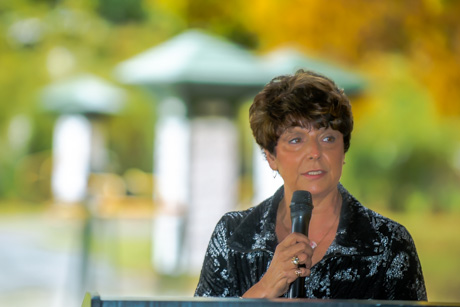 A bit of rain didn't dampen spirits in Bergen this morning where officials dedicated a new "life trail" system in Hickory Park.
The system, made up of seven, three-sided stations with a series of exercises people can perform, is designed to give seniors in particular a chance to be active and improve their physical health.
It was funded by a $50,000 state grant, secured with the help of Sen. Michael Ranzenhofer, Assemblyman Steve Hawley and County Legislator Bob Bausch.
"We have put in place a parks master plan with a focus on fitness and wellness," said Mayor Anna Marie Barclay. "In particular, we want to give opportunities to seniors, which is our fastest growing population, an opportunity, because there are not as many opportunities for seniors as there are for other age groups. We want to encourage our seniors to come out, and not just our seniors. We invite seniors from all of the surrounding communities to come out to our park."
Ranzenhofer said he was proud to have helped bring about the project.
"I'm very excited to be here," Ranzenhofer said. "The comment about the weather, we were talking before about it being a rainy day, but it really is shining today, even though you may not see the sun. On a project like this, with your hard work, collectively, we were able to do a very good thing for the village residents, and thanks for including me."