April 21, 2014 - 6:41pm
Bergen resident builds new store and gas station at routes 33 and 19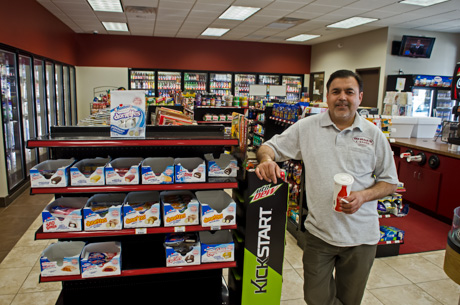 Bergen has a new gas station and convenience store, along with a Dunkin' Donuts location, on Clinton Street Road, near the intersection of Route 33 and Route 19.
Owner Kamaljat Sembhi, who started operating a small, old gas station on the property in 1996, said he thought the location was ideal for an expanded store and gas station. He worked with Dunkin' Donuts to lease space inside the store and offer drive-up donuts and coffee.
"I thought it was a pretty good spot," Sembhi said. "The best corner in the area."
The new store is 3,000 square feet and there are three pumps outside along with two diesel pumps and a kerosene filling station.
The Bergen resident said business has been "pretty good" since opening a month ago.
"We've been busy. I'm happy with that."
April 22, 2014 - 12:32pm
#1
I stopped there this morning on my way to Rochester. I was glad to see they offered breakfast sandwiches and wraps. They also offer other types of sandwiches at drive-up. I enjoyed my breakfast wrap!