October 4, 2014 - 1:05pm
Blue Devils battle for narrow victory over Geneva to go to 4-1 on season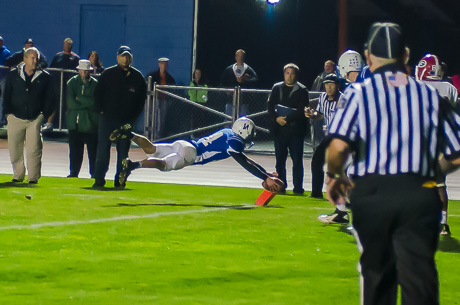 This is where teams fold. Down 7-0 after a 90-yard unmolested half-back sprint down the near sideline, after a fumble and two interceptions, including one when your 60-yard offensive drive has taken you to the vestibule of the end zone, only to see the ball fall into the hands of a defensive back.
That's when the enemy scores. That's when you're down 7-0 deep into the third quarter on a night when all previous offensive drives failed to produce points.
Perhaps, it just isn't your night.
After all, you're a team that hasn't gotten to four wins in a season in more than a decade.
It could be fate, a jinx or just the way it's supposed to be.
Except, you don't believe it. Not for a moment.
"I don't think we ever really skipped a beat," said Dom Mogavero, junior running back and line backer. "We went out there thinking we're going to win this football game. We never really lost our composure. We just kept fighting because we knew we could break that scoreboard eventually."
Everything went from going bad to going good on one play.
Before the play, Geneva recovered a fumble on Batavia's 40 and was moving toward the goal line once again when Panthers QB Alex Joll handed the ball to running back Mark Suchewski on a sweep.
There's nobody Joll would rather give the ball to than Mark Suchewski, who came into the game approaching 1,000 yards on the ground for the season and twice led his team with four-touchdown performances.
As Suchewski sprinted left and searched for a corner to turn, Batavia's James Cryer stayed with him step-for-step, catching him near the hash marks and stripping the ball.
Mogavero pounced on that precious gem of a ball just before it rolled out of bounds. The Blue Devils' bench exploded.
"The momentum shift was huge," Head Coach Brennan Briggs said. "I sensed it right there. It could have gone either way. If they punch it in, now you've really got to dig yourself out of a hole pretty late in the game. When we got that ball I heard one of the kids on our team say, 'now it's our time. We're going to win this game coach.' "
The Blue Devils didn't score on that drive, but the defense came up with a big stop on Geneva's next possession.
Anthony Gallo returned a punt deep into Panthers territory to once again put the Blue Devils on the doorstep of six points.
Taking a path similar to Suchewski's minutes before, QB Greg Mruczek found that corner to turn and with a Panther's defensive back closing in fast, dove for the pylon, giving the Blue Devils their first points on the night early in the 4th quarter.
In a bold move, Briggs called for a two-point conversion and on a spread offense Mogavero just barely nosed the ball over the goal line.
From there, it was ball control and a good game plan for the Blue Devils.
From watching film, Briggs said the coaches knew if they could spread Geneva's defense with receivers on the outside, it would open some up holes in the middle.
Wind gusts made passing a little more treacherous. Mruczek completed only six of his 19 tosses (for 85 yards), and twice balls intended for wideouts wound up in the hands of corner backs, but Briggs stuck with the game plan.
"Greg was struggling a little bit early on getting the ball out there, so even though it was there, we couldn't take advantage of it," Briggs said. "Eventually, they saw 'OK that's what they're trying to do', and eventually they're going to connect on it, so they widened out and we started going to one-back running with Dom and quarterback keepers."
Mogavero rushed for 110 yards on 23 carries.
"I give a lot of credit to our coaches," Mosgavero said. "We came in with a great game plan."
Stopping Suchewski was a big part of that game plan.
The plan was to stack the box, stop the run and let a strong-armed Joll, a fearless pocket passer, heave the ball down field as often as he liked.
"We went into the game saying we're going to gamble with the pass and we're going to shut down their run," Briggs said. "We're going to commit to stopping that run and we're going to put pressure on him if he's passing. We're going to say hey we've got athletes out there and you guys have got to have a great snap, great throw and great catch."
To be sure, Joll connected on a couple of those bombs, but tight coverage contained the yardage after reception. With a running game all but shut down, the Panthers couldn't sustain a drive.
With a lead in the 4th, a defense that could contain the Panthers, Briggs kept the ball on the ground and ran down the clock. With runs of three or four yards at a time, the Blue Devils were able to control the ball through most of the fourth quarter.
"We knew we had to fight," Mruczek said' "We have a lot better team than them, I thought. Man-to-man up front. We just had to grind and fight, grind and fight and get the W."
This year's Blue Devils team is a confident bunch of guys, Briggs said.
"That can sometimes be a bad thing," said the head coach, "but I love the swag of these kids."
It's all about the team, Mogavero said.
"I give a lot of credit to our guys every day," Mogavero said. "They play out their hearts every single game, every snap, every practice. We just give it and keep giving it. I feel like that's definitely going to propel us to the front, because you know, some people don't believe that we can be the team that beats good teams and I feel like we really turned the corner as a program.
"We love each other," he added. "It's the biggest team. We're not the biggest team size-wise, the biggest team in numbers, but we're close. That makes our hearts big."
Mogavero pointed to his chest, just below "Batavia," and said "We're big here."
Top Photo: Mruczek dives for the pylon for a TD. A two-point conversion would give Batavia the go-ahead and stay-ahead points.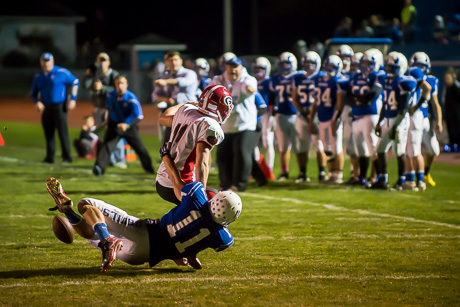 James Cryer forces Geneva's star running back Mark Suchewski as the Panther's seemed to be on the verge of another score.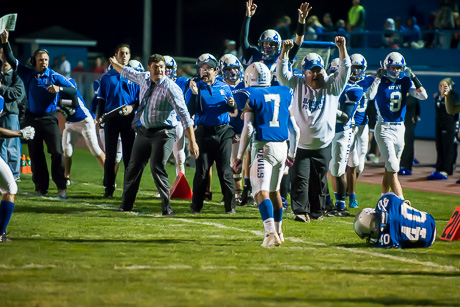 Batavia's bench celebrates Mogavero's fumble recovery.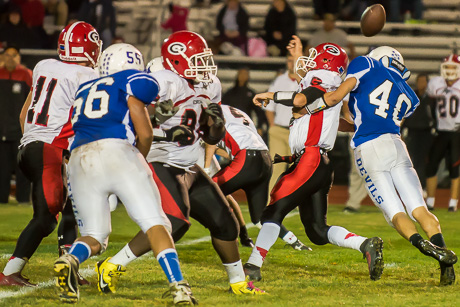 Mogavero hits Joll just as he attempts another long pass. The play was ruled an incomplete forward pass.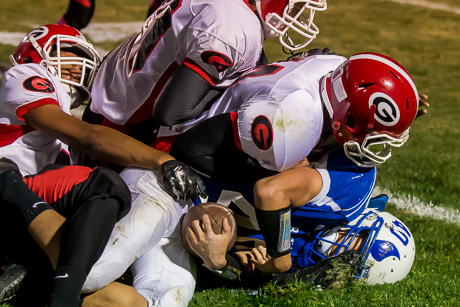 Mogavero gets his helment buried in the turf at the end of a run.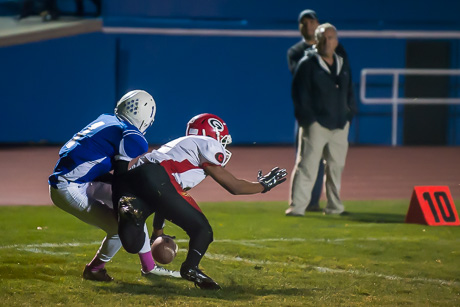 This play was ruled an interception. Check the sequence in the slideshow below. It appears the defensive player trapped the ball on the ground before he had control. On the second play after the turnover, Mark Suchewski ran 90 yards for a Geneva touchdown.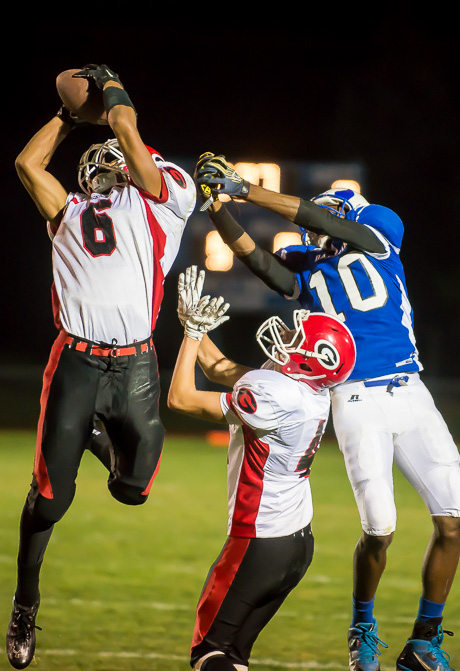 Geneva's Marquan Ross with an interception on a pass intended for Malachi Chenault.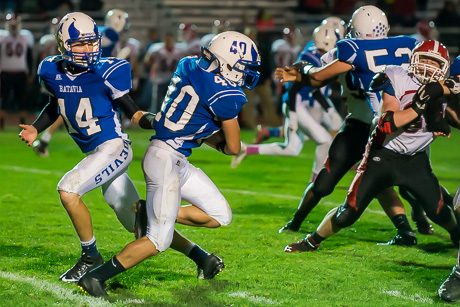 Mruczek hands off to Mogevero in the 4th quarter.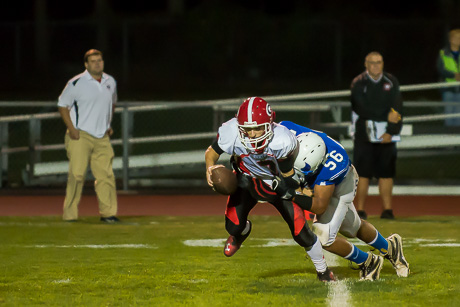 Danny Williams, who also had 10 tackles on the night, sacks Alex Joll in the 4th quarter.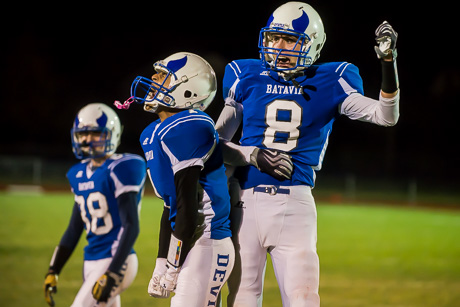 Jarrett Laskett and Trevor Sherwood celebrate the Blue Devils victory after the final whistle.
To purchase prints from this game and ensure you have copies for years to come, click here.