November 14, 2012 - 11:13am
BREAKING: Jacquetta Simmons sentenced to five years in prison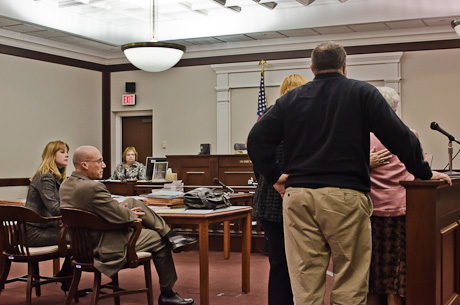 NOTE: Final update to story posted at 3:19 p.m.
Jacquetta Simmons, who last Christmas Eve socked a 70-year-old Walmart cashier in the face, will spend this holiday in state prison, Judge Robert C. Noonan ruled in Genesee County Court this morning.
Simmons was given a five-year sentence and three years post-release supervision.
Noonan's decision came at the end of a tense and emotional 90-minute hearing.
Attorneys argued over the merits of the Probation Department's pre-sentence investigation. The victim, Grace Suozzi, spoke for five minutes and told Noonan about what she had been through and the toll the assault has taken on her life. And, District Attorney Lawrence Friedman asked for the maximum sentence while Anne Nichols, representing Simmons, asked for probation.
Through it all, Simmons, now eight months pregnant, and dressed in a white sweater and black skirt, sat motionless.
Her only statement in court was brief.
"I'm truly sorry, I am, and I feel bad about what Grace and her family have endured, all the things they've been going through right now," Simmons said.
Simmons was arrested Dec. 24 at Walmart after being asked for a receipt by Walmart cashier Grace Suozzi. Simmons was with her brother, who was holding a bag of items the siblings had just purchased to help their mother prepare Christmas Eve dinner.
Simmons refused to show Suozzi the receipt and engaged in a tirade of racial and vulgar epithets.
After arguing for several minutes, Simmons grabbed the bag of merchandise and tried to leave the store. Suozzi stepped around her register and walked toward Simmons. A video played at the trial shows Simmons delivering, as Assistant District Attorney Melissa Cianfrini put it, "a roundhouse punch" to Suozzi, sending her flying across the floor.
As Simmons and her brother tried to flee, a group of citizens intervened and kept them from driving away.
Simmons was subsequently arrested and charged with two felonies and was convicted by a jury on Aug. 24 of one of those assault charges.
Suozzi suffered fractures in her face and permanent nerve damage.
While some 100 people submitted letters through the defense to the judge telling him, Noonan said, what a good person Simmons is and that she has contributed much to the community, the prosecution painted a picture of a young woman who can't accept that she did anything wrong and has shown no remorse for her assault.
"This defendant has shown no remorse, no empathy, no acceptance of responsibility," Friedman said.
The DA then recited statements Simmons has made, mostly as part of the pre-sentence investigation, such as, "It was very unfortunate that Grace was hit," and "I hold not hate or bitterness toward Grace."
When asked to describe the crime she committed, Simmons wrote, according to Friedman, "Accidentally hitting a woman over 65."
"Your honor, this vicious, unprovoked assault on an innocent victim, more than two and a half times the age of the perpetrator makes this a crime that is, I suggest, one that needs to be taken very seriously by this court," Friedman said. "That coupled with the impact this crime has had on Grace Suozzi and those who care about her, I suggest your honor, fully indicates this defendant should now be sentenced to the maximum sentence permitted by law."
Sitting in the court to support Simmons, Nichols told Noonan, were several friends, her parents and her husband. They all knew, Nichols said, that Simmons is a good person. She said Simmons is college educated, has volunteered for literacy programs, youth programs and hopes someday to open a shelter for homeless people.
"She is not the person she's been painted to be in this courtroom," Nichols said. "In this courtroom she has been painted out to be a racist, someone who has no regard for others. That is simply not the case, Judge. As the people who are in this courtroom to support her here today, and the people in the community who submitted letters will tell you, that is not Jacquetta Simmons."
A prison term for Simmons would do nobody any good, Nichols said.
"Grace has suffered something horrible," Nichols said. "She suffers from post-traumatic stress syndrome. That's not going to resolve with Ms. Simmons sitting in a jail cell, nor is that going to do this community any good."
Before either Noonan or Friedman had their say, Suozzi spoke. In a five-minute statement, the petite grandmother explained the impact the assault had on her life and on her family.  She described ongoing pain and health issues, stress and distress and how her "golden years" have been taken from her.
"What she has taken away from me is irreplaceable," Suozzi said. "She took away my independence. Working at Walmart and at the Board of Elections helped me to pay my bills. She has taken my joy and replaced it with physical pain and emotional trauma.
"She felt OK to drive with a suspended license," Suozzi added. "She felt it was OK to park in a handicapped spot. She committed a horrible crime and has total disregard for laws, rules or policy, and won't even comply with a reasonable request."
At times, she said, she thought God was getting ready to take her home and so she placed all of her important documents on her dresser so everything would be ready, she said.
Suozzi said she was ashamed that Simmons claims to be a Christian but put her hand on a Bible and "lied under oath."
When asking for Simmons to get he maximum sentence, Suozzi said, "I pray that she too will seek and serve our Lord instead of Satan."
Following Suozzi's statement, her daughter, Teresa Wormley, spoke about the impact the attack has had on her and the entire Suozzi family. Melissa Cianfrini then read a letter from Joseph Suozzi, who is head of the FBI office in Cincinnati and was unable to attend the hearing.
Before pronouncing sentence, Noonan made a long statement, noting that prior to trial he ruled that there wasn't enough evidence presented to the grand jury to support one of the charges against Simmons for assault in the second degree.
While Simmons was tried under the statute for assault against a person age 65 or older while the assailant is more than 10 years younger, the other assault charge required proof that the defendant intended to cause serious physical injury.
Noonan didn't think that evidence was present in the grand jury transcript, but after sitting through the trial and seeing all of the evidence against Simmons, Noonan expressed some thought that Simmons may have intended serious physical injury.
"There were things not evident to the grand jury but were evident at trial, and they are astounding," Noonan said. "For one thing, the difference in size of Ms. Simmons and the size of Grace Suozzi. The defendant is two and half times the size and weight, a foot taller and 40 years younger than the victim. Boy, oh, boy, that's a disproportionate bargaining position when it comes to an unusual display of anger."
Noonan said he can accept that Simmons is more like the person portrayed in the letters he received from supporters, and less like the portrayals in the media and court, but Dec. 24, he said, was a different matter.
"One of the factors in sentencing is considering the gravity of the act and this was a senseless, brutal act," Noonan said. "There is no other way to describe it.
"It took the jury," Noonan added, "after a fairly lengthy trial, it took the jury very little time to reject this defense ... that this was somehow an accidental pulling away of the defendant and when she was really just trying to get away and she accidently punched Grace Suozzi. That is clearly untrue. If it wasn't clear enough through the many witnesses, it was certainly evident by watching the video over and over and over and over. It was a brutal, brutal assault."
Finally, Noonan said another key factor in sentencing is whether the defendant shows a sense of remorse.
"I think it's kind of interesting that the defense counsel says that the defendant shows remorse because she's sorry for something that happened to Grace," Noonan said. "Remorse is not being sorry something that happened to somebody. Remorse is being sorry for what you did. The defendant has never expressed anything close to being sorry for her own criminal conduct."
Outside of court, after the hearing, Friedman reiterated that Simmons at no point showed any remorse for her crime.
"The defense tried to characterize some things the defendant said in the pre-sentence investigation as indicating remorse, but I don't think anything could be further from the truth," Friedman said. "She absolutely did not accept any responsibility for what she did."
Even though Friedman sought the full seven-year term Noonan could have handed down, he said he was satisfied with the results.
"Obviously, we meant what we said when we indicated that we felt a seven-year sentence was appropriate, but you know I certainly don't question the wisdom of what Judge Noonan did," Friedman said.
Attorney Earl Key and co-counsel Nichols declined to speak with reporters after the sentencing. Key brushed past one reporter and said the case would be appealed.
Previously, Key has said Simmons did not receive a fair trial, primarily because of media coverage of the crime. Today, in her courtroom statement, Nichols said Simmons did receive a fair trial.
NOTE: The Batavian has provided the most comprehensive coverage in Western New York of this crime since it was first reported from scanner traffic Dec. 24, 2011. For our complete coverage dating back to the first report of the assault, click here.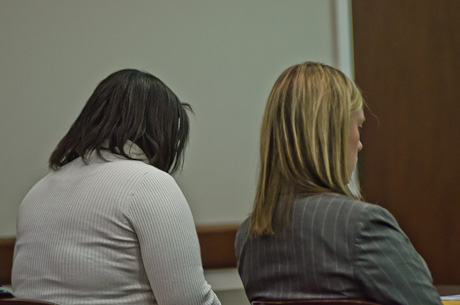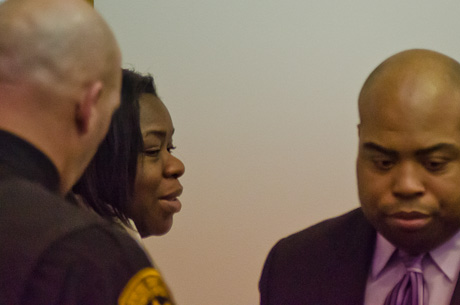 November 14, 2012 - 12:56pm
#4
Eric [Rick] von k...,
You wrote in full, "I do not at all condone what she did, or was i in court to hear it all, but 5 years sounds pretty harse for a 1st time offense."
I'm curious; had you sat through the entire trial as a spectator, what sentence would you recommend?