January 26, 2014 - 10:07pm
Brian Moran announces his 26th year coaching the Oatkan Knights will be his last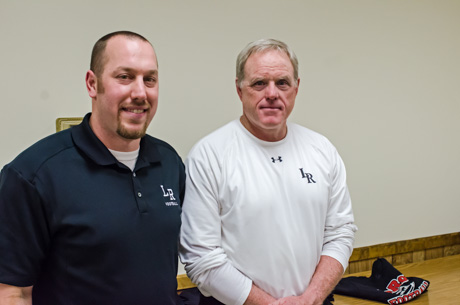 Brian Moran, with 194 career wins and 14 sectional titles, announced at Le Roy's annual football banquet Sunday evening that next year, his 26th leading the Oatkan Knights, will be his last as head coach.
"At the end of next year, I'll be 55 and I'll have either coached or played since I was 12," Moran said. "When we hired Brian Herdlein (left in photo), we had a conversation with him as a district about taking over for me. He's been in the program long enough and it just feels like it's time for him to take over the program."
Le Roy will return to the gridiron with a pretty talented team for the 2014 season, which should give Moran a great opportunity to notch his 200th career win, a milestone he said is in fact something he'd like to achieve.
"You think about it when you're young, getting to 200, but when you get here what you think about most are the memories," Moran said. "People don't realize as you get older, those are the things that are important. I've had a lot of great memories with a lot of great coaches and players and the support of our community, which just makes it a privilege to coach here."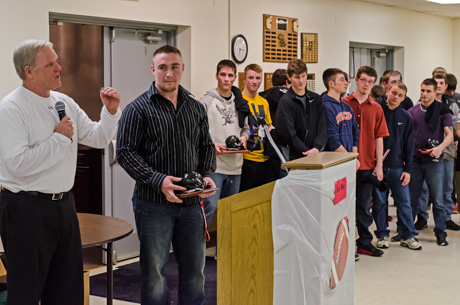 Each senior player, such as Brandon Van Grol, above, received a small football helmet on a plaque. In each case, Moran shared a word of praise for each player.
January 27, 2014 - 3:10pm
#1
January 27, 2014 - 7:11pm
#2
Passing the torch from one Brian to the next Brian. Awesome! Good luck to you both and wish you both ALL the best. Go LeRoy! I can't help but think that Coach Moran will be on every sideline of future football games....it's in his blood!