February 5, 2012 - 6:10pm
Brockovich researcher said he feels obligated to finish what he started
posted by
Howard B. Owens
in
Le Roy
.
Bob Bowcock, lead researcher for the Erin Brockovich team, said he feels like there are still too many unanswered questions for him to walk away from further investigation in Le Roy.
He's coming back, probably with Brockovich, the week of Feb. 20 to continue digging for information and possibly take part in a town hall meeting with Brockovich.
"I've got to finish what I started because there are basic questions that have gone unanswered," he said.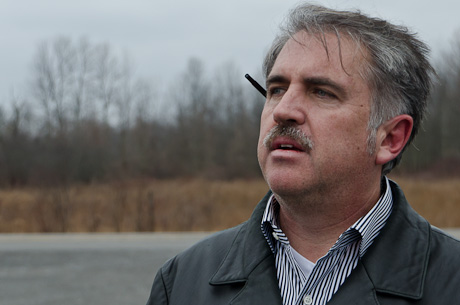 Bowcock said his biggest area of concern are the gas wells on school property. He hasn't been able to get basic information from the school district about the wells and the gas that's being used in the school.
"Is there mercury in the gas? I don't know," Bowcock said. "If there isn't, then case closed (regarding gas from the wells)."
He said one easy way to get the answer is to look at the MSDS (Material Safety Data Sheets), which he said are public record and should be kept in a binder at the school. So far, he said, the district hasn't been willing to share those sheets with him.
When a reporter asked Saturday about the sheets, Superintendent Kim Cox said the sheets would be posted on the district's website.
Cox also said gas from the wells isn't used in the high school. Rather, it is used at the other district buildings at Trigon Park and Wolcott Street.
Bowcock acknowledges the DOH report on the outbreak of tics among 16 students at the school included information on a search of published medical reports that found only one case of mercury-induced tics.
The main thing Bowcock said he wants to do is get answers to questions and provide the community with information.
"About 50 percent of what we do is point people in the right direction," Bowcock said. "About 25 percent is education and empowering people to ask the right questions."
As for looking for a reason to file a lawsuit, as some have speculated, Bowcock said, "That's just not what we do."
He also said during his entire career with Brockovich, they've never been involved in a lawsuit against a public entity.
"We go after polluters, and big ones," Bowcock said.
There are questions Bowcock would still like answered about the school, such as: Was fill dirt used? Is the school built on a swamp? (He hadn't seen The Batavian's report dispelling that myth.)
These questions could be answered easily by the school district if the district would just release the reports he believes are on file about construction of the school.
If fill was used, he said, there would be a report on the origin of the fill. There should be reports readily available on soil tests prior to construction of the school.
At Saturday's meeting, Mary Ellen Holvey, senior industrial hygienist for Leader Professional Services, said her team reviewed a Level 1 environmental report prepared prior to construction of the school.
That report is now available on the district website. The report confirms the school itself is not built on a swamp, but there were unregistered wetlands to the north and south of the site.
In 2000, when the report was prepared, no environmental waste was known to be within a one-mile radius of the site. And though there had been an oil spill at 9200 South St. Road, the DEC determined the spill was properly cleaned up.
The report found no preexisting environmental problems on the site.
Bowcock said he's still trying to gain permission to do testing at the school and said an assertion by Cox that Bill Albert, with the law firm Harris Beach, asked Bowcock for a sampling plan that he hasn't submitted was inaccurate.
Albert, he said, is supposed to get back to him on his request for "a seat at the table" with Leader on what testing should take place.
"We need to at least have conversation, or we're just shooting in the dark," Bowcock said.
He said one thing that has hampered his efforts is the media misreporting the purpose of this trip to Le Roy a week ago. He said he wasn't there to gather soil samples. He carried a spade just be able to move dirt, rocks and brush to make visual inspections. The purpose of the trip was to do a first reconnaissance on the topography and check sites of possible contamination that people recommended he check.
He took three water samples, he said, just because he had the kits with him and was given permission to take the samples, but that wasn't a primary part of his mission.
The Lehigh Valley Derailment Site is an example of the kind of site he was asked to check out, and though he doubts the site is connected to problems at the school, he wants to know more about it and more about the TCE plume created by the wreck.
He isn't convinced, he said, the plume is moving exactly as the EPA has described it. If he's right, there may be area residents who are on well water when they should be on municipal water.
"You've got the largest TCE spill in the federal system and they forgot about it," Bowcock said. "I realize they have 15,000 sites, so I could understand them losing a few, but not the big one."
While Bowcock isn't beating the drum for an environmental cause, he does want to ensure that all environmental causes have been ruled out.
He doesn't agree with Cox that an environmental cause wouldn't discriminate.
He noted that Brockovich is allergic to sulfur and has a reaction whenever they go onto sites with sulfur, but sulfur doesn't bother Bowcock.
While saying it is outside of his specialty to talk about medical conditions, he questioned Cox's expertise to make such a statement.
"Environmental things do discriminate and they discriminate based on our individual genetic makeup," Bowcock said.
And with that in mind, he said he wants to finish his work in Le Roy.
"I feel a responsibility to close it properly," Bowcock said. "If it takes six days, six weeks or six years, it is what it is."
More documents from the school district:
UPDATE, Monday, Feb. 6, 12:56 p.m.: Le Roy Superintendent Kim Cox emailed the following response to Bowcock's statements. These two paragraphs are from an email discussing other matters.
I also wanted to clarify some misinformation contained in your recent article. Mr. Bowcock has contacted the District only twice, once through Bill Albert with a voice mail after hours on Wednesday evening and Bill responded on Thursday. At that time, he was invited to submit his work plan for testing and told it would be passed on to Leader, our environmental consulting firm, to take under consideration. Mr. Bowcock told Mr. Albert that he would not submit a work plan.
The second contact by Mr. Bowcock was a letter sent to me through an email late Friday afternoon requesting permission to attend our community meeting on Saturday. I responded through an email that he was welcome to attend the meeting, and I also let him know that I understood he declined to submit a work plan but if was reconsidering to let us know.
He obviously chose not to attend our meeting and I have not heard from him since that time. To be clear, he has not made any additional requests for information from the District, so I am puzzled by comments that he made to you that the district has been unwilling to share the MSDS sheets with him.

As we stated in our community meeting when asked about the MSDS sheets, we said we would post them to our website. Because we are required to maintain MSDS sheets for 30 years, there are many documents. We are working as quickly as we can to sort through those documents to separate the ones related to the high school so people have the relevant information. These will be scanned and posted as soon as that process is completed. In addition, these documents are public record so anyone who chooses can request seeing all of the MSDS sheets.
UPDATE Monday, Feb. 6, 1:36 p.m.: Bob Bowcock released a letter he's written to Kim Cox (PDF). (Note: this actually arrived in my inbox before Cox sent the email referenced above, but I didn't notice it until after posting the above update.)
February 6, 2012 - 2:45am
#2
What is the official count of girls/boys affected? This is adding to the media frenzy, as some state the original 12, some now at 16. I know from your previous post the original 12, and that with 1 not being tested, 2 with previous causes traumatic events, and 1 with Tourettes from birth so 8 total girls. What happened with the boy, who was in the news recently, and now the other 4 girls? Are they now clumping the 36 year old woman in the tally? Although she stated that she was diagnosed because of 2 traumatic events. Now is the news going to get a tally of all in LeRoy with Tourettes and clump them in a high number?