April 18, 2012 - 3:25pm
Budding entrepreneurs looking to expand the menu of locally delivered meals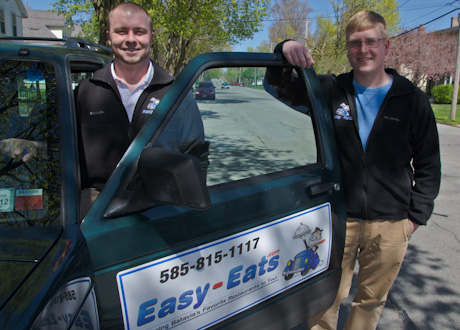 Batavia is blessed with a number of great pizza shops, and they all deliver.
But what if you're hungry for souvlaki, some brisket, chow mein or a plate of tacos? Good luck getting anything not on a pizza shop menu brought to your home or business.
Will Barton and Jon Sce hope to change that.
The pair of Batavia natives have launched a food-delivery service called Easy-Eats. For a delivery fee of $3, they will bring a hot, fresh meal to your door from a local restaurant.
So far, only one local restaurant -- Sport of Kings -- has signed on to the service. But Barton, pictured above on the left, and Sce hope other restaurant owners will see the value of expanding their customer base to include people who don't necessarily want to go out  -- they would rather stay home but not cook.
"See a need, fill a need, right?" said Barton, quoting an oft-cited entrepreneurial credo. "They have these kinds of businesses all over the country, so we thought we would bring it to Batavia."
Typically, Sce said, there are restaurants in communities that are interested in home delivery, but breaking into that business opens a new level of complexity that most restaurant owners don't want to tackle.
Easy-Eats gives restaurant owners an option for expanding their customer base, Sce said, without taking on the logistics of managing a delivery business themselves.
Both Barton and Sce have several years experience in pizza delivery, and as lifelong residents, they know their way around town, which they think is an advantage.
"We know the town in and out," Barton said. "We're just trying to take that skill and, you know, bloom where you're planted."
Customers who want to order a meal can call the service at 815-1117 or go online to Easy-Eats.com, where ordering becomes even more convenient. The restaurant menu is online. You just select what you want, check out and pay. And before long, you have a meal in your home (We tried it last night).
Restaurant owners who wish to participate can contact Barton or Sce at 815-1117.
April 18, 2012 - 7:28pm
#3
Awesome idea! My Hubby and I are always saying, why does no one deliver anything but pizza! Wishing you both all the best, I am sure we will be supporting this one!