August 29, 2012 - 4:43pm
Business owned by Chad Zambito closed, assets up for auction to pay debts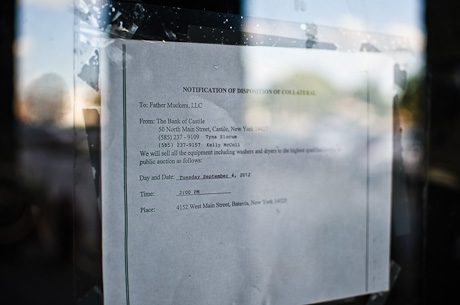 Grammy's Laundry, a business located on West Main Street and owned by Chad Zambito, a candidate in the GOP primary for Batavia Town Board, has been closed and its assets are being sold at auction.
The auction is set for 2 p.m., Tuesday, Sept. 4, at the order of the Bank of Castile.
Besides owning money to the Bank of Castile, Zambito also borrowed money from the Batavia Development Corporation (BDC) to help upgrade and modernize the laundry.
In total, Zambito said, he owes less than $20,000 against the business's assets, which he said he expects to fetch close to $30,000 in the auction.
Zambito said today his business got into trouble in January when a plumbing problem forced him to close the laundry for two months. Even after the doors were open again, customers did not return with the same frequency as before.
He believes another business caused the blockage in the plumbing system, but it wasn't resolved in time between the other business and the landlord to get his doors reopened in a timely manner.
"It wasn't my responsibility to fix it, but yet I'm left to deal with the consequences," Zambito said.
The failure of Zambito's business was brought to the attention of The Batavian by his GOP primary opponent John Gerace. Gerace didn't accuse Zambito of stirring the pot on Gerace's own personal issues, but said if others are going drag the campaign into personal issues rather than real issues, people should know about the auction proceedings.
Zambito was appointed earlier this month to fill the vacant spot left on the Town Board by Gerace's resignation from the board in April. Zambito is also the endorsed candidate by the town's GOP committee in the Sept. 13 primary race.
While the notice on the door of Grammy's Laundry confirms the auction, The Batavian has not been able to confirm the amount of debt Zambito incurred and has not repaid. A FOIL request to the City of Batavia for related BDC documents has not yet been answered.
Zambito is a former BDC board member, but said he left that position when he was no longer employed by Genesee County Economic Development Committee, and didn't request the loan until after he was no longer a BDC member.
Grammy's Laundry, Zambito said, went through three or four years of ups and downs as he tried to get the business going and in time, prior to the plumbing problem, the laundry was not much more than a break-even proposition.
"I worked with both lending institutions in an attempt to stay on track, but it got to be too much," Zambito said.
August 29, 2012 - 8:18pm
#4
Mark....come on now dont you think you are a little premature and harsh w this criticism? I mean take a look at what is being said. He doesnt own the building, he says he has a landlord, he obviously bought the business as is and upgraded it (hence the loans) and the plumbing system is apparently shared w other businesses. He attempted to do this business and failed. If what he claims is correct he borrowed money from the bank and BDC this would be the debt he is attempting to cover w the auction. It may be in his lease that the Landlord is responsible for the plumbing, some bldgs with mutliple businesesses in this setting forbid the business from having its own work done by the leasing contract and so on. It doesnt seem like a dodge to me.
As a matter of fact if his auction does cover his debts and he walks away with minimal financial loss that says to me he has a good head on his shoulders, go enough to deal with things unexpected and out of his control per se. Thats a skill set that would be very useful in his elected position. I'm sure we'll know more once Howard has the details he foiled for.
LOL while both candidates are dealing with dirty laundry issues, it seems that Mr. Zambito's can easily be cleaned and pressed. While Mr. Gerace's might not be so easy to clean.